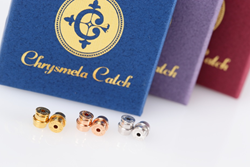 The BEST thing that has ever happened to earrings since diamonds.
San Francisco, CA (PRWEB) September 30, 2014
Chrysmela announced today the expansion of its sales channels to Joyus.com , the leading video shopping destination on the web for fashionable and savvy consumers. Chrysmela sells a patented earring back providing highly secure locking power. Joyus brings thoroughly curated products and brands to consumers via proprietary videos featuring fashion and beauty experts.
Guy Gal, Vice President of Business Development at Joyus said, "We are thrilled to have discovered a product, which is both elegant and practical, that solves a very common real problem affecting over 86% of women surveyed: lost earrings. We believe our customers will love these comfortable earring catches as much as the nearly 200,000 Chrysmela customers in Japan do."
Mayumi Ishii, Managing Director of MIV Consulting, LLC, the Exclusive US Distributor of Chrysmela said, "We are very excited to join Joyus.com. It is a perfect match of the wonderful shopping experience on Joyus and the compelling Chrysmela value proposition. Joyus' state of the art website and videos are fun and highly informative, making it easy for busy women to find valuable, innovative designs and products."
Patented both in the US and Japan, Chrysmela technology provides unsurpassed locking power for even the heaviest of earrings and works with most straight earning posts. Chrysmela is new to the United States but is not a new product. It has nearly 200,000 customers since 2008 in Japan where it is regularly the category sales leader. Its products are made in high-tech precision factories in Japan that make parts for fine watches and smart phones.
Chrysmela is available in platinum, 23K yellow gold and rose gold. It is hypoallergenic with the internal mechanism made of surgical stainless steel. Chrysmela comes in a gift ready box for $50 a pair. A wholesale price is available upon request.
About Joyus:
Joyus is the internet's only video shopping network, allowing users to watch, shop and share products they love across Fashion, Beauty, Health & Fitness and Lifestyle. Founded in 2011, the company brings together an experienced management team including executives from Google, Ebay, Efficient Frontier, ABC, HBO, Sephora, and Fred Segal. The company was named amongst the "World's Best Retail Web Sites" by Internet Retailer (Dec 2012), selected as Brand Innovators' "Top 25 E-Commerce Companies to Watch" (2013) and AO Networks "Top Private Companies to Watch" (2013) Joyus has raised over $19 million in financing, including $11.5 million in new financing in Q4 2012 led by Interwest Partners and Time Warner Investments and additional participation from existing investors, including Accel Partners and Harrison Metal.
About MIV Consulting, LLC:
MIVC is a management consulting company specializing in creating cross border marketing and financial alliances between the US and Japanese companies with focus on fashion, lifestyle and technology products. MIVC is the exclusive US representative for all Chrysmela products.
About Chrysmela, Inc:
Chrysmela, based in Tokyo, Japan, develops and distributes the high-tech earring backs. Eri Kikunaga, CEO and Inventor, founded the company in 2007. Ms. Kikunaga received 2010 The Entrepreneurs Awards Japan Groundbreakers Award, for an Outstanding Entrepreneurial Woman. Patented in the US and Japan, Chrysmela Catch has nearly 200,000 customers.
Press Contact and Trade Inquiry:
Mayumi Ishii
MIV Consulting, LLC
650 455 4008