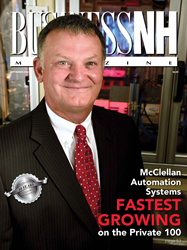 "We are proud to be named New Hampshire's fastest growing company for 2013," says Founder and Chairman James W. McClellan. "We could not have achieved this success without the dedication of our employees and the support of our vendor partners."
Bedford, NH (PRWEB) September 29, 2014
McClellan Automation Systems, an advanced manufacturing systems company that designs and builds custom production automation equipment, announced today that it has been named Business NH Magazine's fastest growing private company for 2013. In addition, the company makes its' debut on the NH's Top 100 Private Companies list at #53.
"We are proud to be named New Hampshire's fastest growing company for 2013," says Founder and Chairman James W. McClellan. "We could not have achieved this success without the dedication of our employees and the support of our vendor partners."
From 2010 to 2013, McClellan Automation Systems realized 1,750% revenue growth, thanks in part to diversification from the company's roots in the medical device manufacturing industry to the consumer products and life science industries. McClellan looks to the future by investing in companies developing emerging technologies, "Our goal is to continue the diversification into new markets and advanced manufacturing systems."
Founded in 1989, McClellan Automation Systems has grown to three facilities – all in the United States – with over 80 employees and 60,000 square feet of manufacturing space. A privately owned company, McClellan provides clients across the U.S.A. with services ranging from small, proof-of-principle projects to full-size turnkey automated systems. McClellan Automation Systems provides custom automation equipment for high-precision discrete part assembly, process automation and web handling.
For more information on McClellan Automation Systems, visit: http://www.mcclellan-automation.com.
To read a summary of the Business NH Magazine article, visit: http://millyardcommunications.com/index.php?src=news&srctype=detail&category=News&refno=4739.
McClellan Automation Systems
info(at)jwmcclellan(dot)com
70 Tirrell Hill Rd
Bedford, NH 03110