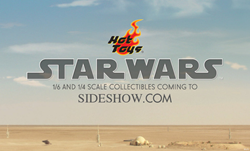 Thousand Oaks, CA (PRWEB) September 26, 2014
Long time Star Wars licensee, Sideshow Collectibles, has expanded their partnership with the creative Hong Kong powerhouse that is Hot Toys.
Sideshow, the current and original distributor of Hot Toys products, will act as the official licensed distributor for the Hot Toys Star Wars figures in the Americas and Europe, while Hot Toys will be self-distributed throughout Asia. Both Hot Toys and Sideshow will create a complementary mix of 1:6 and 1:4 scale figures that will cover previously released films, as well as upcoming movies.
Sideshow has produced approximately 150 Star Wars figures over the past decade, a few of which have been co-developed with Hot Toys. The unique partnership of these two figure collectible companies is a testament to their collaborative spirit. With highly anticipated new Star Wars films on the horizon, Sideshow and Hot Toys are eager to satisfy the growing global demand for high-end Star Wars figural art.
Meeting the collector's desire for intricate, stylized, posable, and fixed figures and statues of their favorite Star Wars characters from what is universally regarded as the leading collectible brand in this galaxy is a worthy challenge for the two leading figure collectible companies.
About Sideshow Collectibles
In 1994, Sideshow Collectibles embarked on a mission of connecting people with their favorite characters and icons from the worlds of film, television, comic books and popular culture. Today, we are a specialty manufacturer and distributor of the most highly sought-after licensed and original collectible products, sustained by a passionate worldwide community that is committed to the lifestyle of collecting figural art. Our headquarters are located in Thousand Oaks, California.
About Hot Toys
Established in 2000, Hot Toys Limited is a high-end collectible brand, devoted to designing, developing and producing high quality and highly detailed collectibles with authentic likenesses. From their start in producing 1/6th scale military action figures, Hot Toys has since expanded its product scope to specialize in 1/6th scale collectible figures from popular movies, video games, comics as well as world renowned celebrities. Hot Toys is considered a leader in the 1/6th collectible industry and the Hot Toys brand is highly acclaimed throughout the globe with fans in over 30 countries.
Contact and connect with us:
To learn more about this release, please contact -
Tara Duffy
Marketing Coordinator
2630 Conejo Spectrum Street
Thousand Oaks, CA 91320
Office: 805-214-2135
Fax: 805-214-2190
Website: http://www.sideshowcollectibles.com
Facebook: https://www.facebook.com/sideshowcollectibles
Twitter: https://twitter.com/collectsideshow