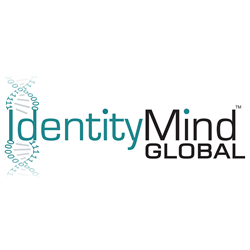 Our clients have the ability to perform screening against worldwide sanctions lists in less than 300 milliseconds. More importantly, this information is delivered in conjunction with IdentityMind's global KYC services
Palo Alto, CA. (PRWEB) September 29, 2014
IdentityMind, a provider of e-commerce fraud and risk management solutions, released its updated sanctions screening service today. The revised service is included in version 1.17 of its proprietary eDNA™ platform.
Sanctions screening is an integral part of any KYC program, and IdentityMind's sanctions screening program satisfies customer demand for better and more actionable data. The service addresses the fundamental challenge of assessing risk when there is a positive match against a sanctions list, by performing accurate identity matching to reduce false positives and providing additional data for faster investigation and closure.
"We are revolutionizing global sanctions screening," said Garrett Gafke, IdentityMind CEO. "Our clients have the ability to perform screening against worldwide sanctions lists in less than 300 milliseconds. More importantly, this information is delivered in conjunction with IdentityMind's global KYC services, providing our clients with the actionable information they need to respond effectively."
In addition, IdentityMind allows clients to choose which lists they wish to screen against, including:

Worldwide: Politically Exposed Persons (PEP)
United States: Office Foreign Asset Control (OFAC)
Canada: Office of the Superintendent of Financial Institutions (OSFI)
European Union: Updated list of persons, groups and entities subject to EU financial sanctions. (EU Freeze List)
IdentityMind provides sanctions screening in combination with identity validation, document verification, email reputation and out of band authentication, making its KYC Services an essential tool for preventing money laundering and account creation fraud/account take over.
IdentityMind sanctions screening and Know Your Customer services are available immediately to clients worldwide.
For more information about the sanctions screening service, other features in this release, or the overall IdentityMind Global platform, please contact: evangelist(at)identitymind.com.
About IdentityMind Global™:
IdentityMind Global™ offers an identity-based platform for safer e-commerce. The on-demand platform provides payments, risk management, anti-fraud, and anti-money laundering services for online merchants, acquiring banks, payment processors, gateways, payment service providers (PSP/ISO/MSP, IPSP), digital currency exchanges, and financial institutions (banks, money service businesses (MSBs), money transmitters).
The platform utilizes proprietary eDNA™ technology and a fully integrated ecosystem of third party data providers to build sophisticated reputations used in evaluating real-time risk across the payments and e-commerce system.
© 2014 IdentityMind Global. All rights reserved. IdentityMind, IdentityMind Platform, IdentityMind eDNA™, IDMPay and the IdentityMind logo are trademarks or registered trademarks of IdentityMind Global, Inc. in the United States and other countries. All other brand, service or product names are trademarks or registered trademarks of their respective companies or owners.
For more information please refer to our website at
http://www.identitymindglobal.com.