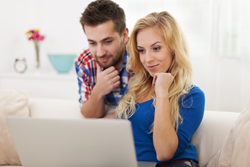 Knowing that Mnet Financial provides our patients with personalized support and the option to monitor bills online was extremely valuable.
Aliso Viejo, California (PRWEB) September 29, 2014
Mnet Financial, innovator and leader in the world of account receivables for the healthcare industry, has announced the addition of online bill presentment, a feature making the medical bills of patients available to them online anytime and anywhere, as an added feature of their patient portal; a solution designed for patients working to resolve their medical debt.
Online bill presentment is best known within the banking industry since most banking institutions now offer this as a part of their online bill pay program; a service in which consumers pay their bills in one place, in this case, a bank's website. While this method can facilitate payments quickly and easily, it doesn't give the consumer access to a copy of their actual bill, highlight the amount of the debt that has been paid, or make clear the total balance due but, instead, is primarily intended to offer consumers access to an electronic payment platform.
However, the online bill presentment feature offered by Mnet Financial addresses all the concerns of patients striving to resolve their medical debt through a safe and secure process online but also makes it possible for the patient to view their actual medical bills in real-time. This feature offers a powerful portal in a stable environment for patients to access their most up-to-date account information so that they may also examine details such as the portion already paid, how much is currently owed, and the payment schedule to bring the account to full resolution.
Because this service is available through the Internet, a patient may log in to their account by personal computer, laptop or tablet computer or even through a smartphone in a safe, secure, and compliant environment. This extraordinarily convenient feature gives the patient the ability to review and submit payment for their medical bills at any time of day or night. The patient also has complete control over the timing of a payment and the amount to be paid and no longer has the need to file and store paper bills giving the patient a simplified bill-payment process and record retention option.
"Mnet Financial's online bill presentment and the patient portal itself are tools we offer that guarantee patients are receiving the highest level of service possible" said Mnet Financial CEO David Hamilton. "By making the process extremely convenient and effortless for the patient, we are able to ensure that patient accounts receivables are resolved; which, of course, is obviously important to all providers" said Hamilton.
"When selecting a bad debt collection vendor to interact with our patients regarding their bills, we found it was important that our patients receive patient-friendly, accurate and transparent billing support. Knowing that Mnet Financial not only provides our patients with personalized call center support and also gives the patients the option to monitor their bills online was extremely valuable. It's comforting to know that we are partnered with a company that cares about improving the patient billing experience as much as we do" said Jocelyn Gaddie, VP of Business Development at In2itive, a well-known healthcare billing company.
With rapid changes in US healthcare and out-of pocket costs climbing for patients, there is a need for companies to provide patients with more details regarding their health care expenses. As patients and employers become more educated about the costs associated with care, services like Patient Billing Support and Online Bill Presentment will be in ever greater demand.