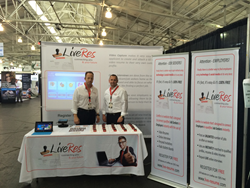 A lot of companies create software with good intentions, but only one thing matter: IT MUST WORK
Miami Florida (PRWEB) September 26, 2014
LiveRes returns from San Francisco after a successful showing at the Small Business Expo.
"From the minute the show began, the number of businesses that approached our booth to find out how LiveRes can help them find qualified people to continue to grow their business was unbelievable. And since the show ended, the registrations just keep coming in. And now, even the high tech companies in Silicon Valley are reaching out to us" says Matthew R. DeRose - Managing Member / Co-founder.
LiveRes prepares for its upcoming live radio interview with KLOK 1170 AM, a drive time station that reaches over 400,000 daily listeners through out Silicon Valley.
A lot of companies create software with good intentions, but only one thing matters: IT MUST WORK.
We have developed a platform that is proving itself everyday to thousands of registered users. And the best part about it is that LiveRes is 100% free to job-seekers & employers, says Douglas Cochrane, Managing Member / Co-founder.
Next stop for LiveRes on its nationwide Small Business Expo tour is Boston Massachusetts on October 2nd where LiveRes plans to introduce some new features such as:

Email notifications for messages sent between job-seekers and employers
Features for individuals & businesses to look for and provide Internships
Features designed for recruiters & staffing agencies
For businesses, never before has finding qualified candidates to fill job openings been so easy. And for Individuals,the ability to be able to continue to market themselves and allow companies to see their qualifications whether they are currently looking for work or not allows them to always keep their options open as jobs and careers continue to find them.
If you haven't checked out LiveRes yet, what are you waiting for? Go to: http://www.live-resume.com or visit them at the upcoming Boston Small Business Expo. Registration and attendance is free. Go to: http://www.thesmallbusinessexpo.com/boston/