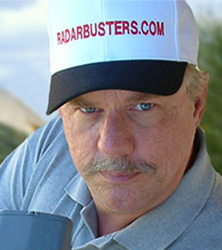 "Radar Roy's arsenal and experience is impressive, he is the General Schwarzkopf of radar detection." – Luxury Automotive Magazine
Morristown, AZ (PRWEB) October 01, 2014
Radar Roy, who is a retired cop and certified traffic radar instructor and who has been involved in the speed counter measurement industry for over 20 years announced today the release of his new and improved website, RadarBusters.com.
"With over 34 million speeding tickets issued each year, we are filling a need by educating drivers about the various tactics and products they can use to become more aware of their surroundings enabling them to drive more defensively," says Radar Roy the founder and president.
Radar Roy's website featured articles include How to Avoid Speeding Tickets, How to Beat your Ticket in Court and How to Select the Best Speed Counter Measurement Devices Based Upon Your Budget.
Roy also tests and reviews the various products offered on his website such as radar detectors, laser jammers and stealth coatings.
Radar Roy articles and reviews have been featured in various magazines, newspapers and radio and TV news broadcasts including American Iron, Super Street Bike, MSNBC, the FOX Network, UPN Network and many more.
"Radar Roy's arsenal and experience is impressive, he is the General Schwarzkopf of radar detection." – Luxury Automotive Magazine
As an example, in 2006 Radar Roy exposed the fraudulent practices of one radar detector manufacture who were defrauding customers by selling illegal radar jammers that didn't work by offering them a $50,000 reward to prove that their product lived up to their claim.
Radar Roy's challenge resulted in numerous investigative reports by UPN, CBS and eventually by the Federal Communications Commission (FCC Ruling DA-07-299), which fined the company for their illegal practices.
Radar Roy expertise also aided in an investigative report, which resulted in the dismissal of a number of speeding tickets due to improperly serviced radar guns.