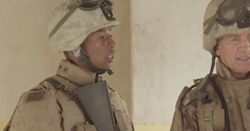 Hollywood, CA (PRWEB) September 25, 2014
American actor Kevin L. Walker keeps his momentum going, starring opposite Eric Roberts in upcoming short film, "Devil Dogs." A short film based on The Second Battle of Fallujah — code-named Operation Al-Fajr and Operation Phantom Fury, which was a joint American, Iraqi, and British offensive in November and December 2004, considered the highest point of conflict in Fallujah during the Iraq War. The short film is written/producer by Laura Cross, directed by Lindsay Holt, and being filmed on a huge set in Southern California, which is rumored to be the same set used in filming Clint Eastwood's upcoming movie, "American Sniper," starring Bradley Cooper. So we can definitely expect some amazing quality.
It comes to no surprise that someone like Walker is now working opposite someone like Golden Globe and Academy Award nomination actor Eric Roberts. Walker possesses an exceptional amount of talent, and discipline which is complimented by his handsome good looks, charisma, and charm. I see award nominations and wins hitting his resume very soon. When asked Walker what he loved the most about working on Devil Dogs, he responded, "Not all sets are the same. I've heard some horror stories and experience some pretty crazy sets first hand as well. I love that on this set, I know I'm working with quality people who want to produce nothing but their best." Walker recently wrapped filming his web series turned feature film, "Vigilante Diaries," where he played a young street hardened vigilante known as "The Kid." Starring opposite the likes of Quinton 'Rampage' Jackson, Jason Mewes, Chavo Guerrero Jr., & Noel Gugliemi.
For more information on Walker and his RISING career you can follow him on Twitter (http://www.Twitter.com/KevinLWalker) or LIKE his page on Facebook (https://www.facebook.com/ActorKevinLWalker?ref=hl)
Definitely keep an eye out for Kevin L. Walker! I'm sure you'll be seeing A LOT more of him VERY soon!