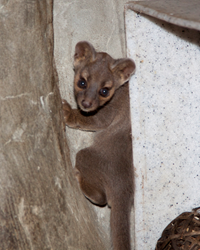 Denver, CO (PRWEB) September 25, 2014
Denver Zoo is celebrating the birth of its very first fossa (FOO-sah) pup, born on July 28. The male pup, named Rico, has stayed behind the scenes for the last couple months under the watchful eye of his mother, Violet, who is proving to be an excellent first-time mom. Rico is now slowly gaining more mobility, though, and zookeepers just removed the boards in front of their indoor habitat. Guests may see him as he attempts to leave his nest box inside the Zoo's Feline Building.
Rico was born to Violet, and father, Dorian. Violet was born at Omaha's Henry Doorly Zoo in June 2010 and arrived at Denver Zoo in April 2012. Dorian, was the very first fossa to live at Denver Zoo, arriving in February 2010 from Utah's Hogle Zoo. He was born at the San Diego Zoo in May 2006. The two were paired in early June when Violet was mature enough to breed. Fortunately, the couple has proved to be an excellent match.
Fossas almost resemble small mountain lions, but their closest relative is actually the mongoose. They have short, brown coats. Adults stand about 8 inches tall at the shoulder and can stretch about two-and-half feet from head to backside. Their tails can be just as long and provide good balance when navigating though trees while hunting for prey. Their teeth, jaws and partially retractable claws resemble those of a cat, but their agility has been described as almost primate-like. They can hang upside down and quickly climb to the top of a tree.
Even though they may only weigh about 20 pounds, fossas are the largest mammalian carnivore on Madagascar. Roughly half their diet consists of lemurs, but they also eat lizards, birds and smaller livestock. Fossas are cathemeral, meaning they are active and looking for prey at any part of the day or night, depending on mood and food availability.
The fossas' status in the wild is unknown. Once thought to be vulnerable with less than 2500 estimated individuals in the wild, now experts are uncertain due to a lack of sightings. Their major threats come from habitat loss and hunting.
About Denver Zoo: Denver Zoo is home to 4,000 animals representing more than 600 species and is accredited by the Association of Zoos and Aquariums (AZA). AZA accreditation assures the highest standards of animal care. Denver Zoo is funded in part by the Scientific and Cultural Facilities District (SCFD), a unique funding source serving hundreds of metro Denver arts, culture, and scientific organizations.
A leader in environmental action, Denver Zoo is dedicated to ensuring the safety of the environment in support of all species and is the first U.S. zoo to receive ISO 14001 certification for the entire facility and operations. This international certification ensures the zoo is attaining the highest environmental standards.
Since 1996, Denver Zoo has participated in 594 conservation projects in 62 countries on all seven continents. In 2012 alone, Denver Zoo participated in 98 projects in 18 countries and more than $1 million in funds was spent by the zoo in support of animal conservation in the field.
###