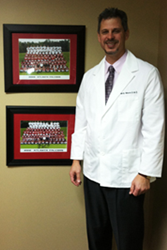 Buford, GA (PRWEB) September 25, 2014
In honor of Self-Improvement Month, Dr. Randolph S. Moore seeks to raise awareness of the importance of proper oral care and hygiene by providing a wide variety of dental services, including a new and advanced gum recession treatment in Buford, GA known as the Pinhole Surgical Technique™. Given that gum recession is often caused by the onset of gum disease and a number of other factors, the availability of a minimally invasive treatment option such as the one offered by Dr. Moore is exceptionally important, especially to those who are seeking to improve their smile by reducing their gum recession.
The Pinhole Surgical Technique™ differs from other surgical procedures that address gum recession due to the fact that there is no need for the doctor to use a scalpel or sutures. For patients seeking a gum recession treatment in Buford, GA, the Pinhole Surgical Technique™ may be a viable option, as the technique is not only minimally invasive but it also results in immediate cosmetic benefits and a minimal amount of time needed for recovery.
Gum disease, and the subsequent gum recession that often results, is quite a common occurrence among American adults. In fact, nearly half of the adult population in the United States suffers from some form of the disease, according to figures released by the Centers for Disease Control and Prevention (CDC). The figures are alarming, especially considering the fact that several recent studies have linked periodontal disease to the incidence of cardiovascular disease, stroke, and a number of different types of cancer.
While gum disease is often the most common cause of gum recession, there are a number of other factors that may play a role in causing the gums to recede. Many patients find that their gums recede due to improper brushing techniques or from lifestyle factors such as tobacco use or wearing oral jewelry. Regardless of the cause of gum recession, the Pinhole Surgical Technique™ is able to offer a solution that is minimally invasive. Patients who are interested in self-improvement efforts related to oral health and those in need of gum recession treatment in Buford, GA can call the office of Dr. Moore to schedule an appointment for a consultation at their earliest convenience.
About the Doctor
Dr. Randolph S. Moore is a general dentist offering personalized dental care for patients in the Buford, GA area for over 20 years. Dr. Moore received his degree from the University of Alabama in Birmingham, and completed his residency at the Veterans Hospital in Birmingham. Dr. Moore is active in the dentistry field and is a member of the Georgia Dental Association, the American Dental Association, American General Dentistry, American Academy of Cosmetic Dentistry and ICOI (International Congress of Oral Implantologists). To learn more about Dr. Moore and his dental services, visit his website at http://www.smilemooredentistry.com/ or call (770) 545-6141.