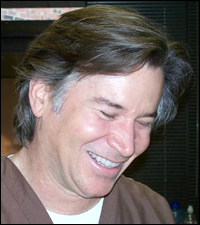 Austin, TX (PRWEB) September 25, 2014
September is Self-Improvement Month, and Dr. David Baker is honoring that by helping patients protect their smiles and oral health with laser gum surgery and dental implants in Austin, TX. Dr. Baker performs the LANAP® protocol, which can fix bleeding gums and remove gum disease, all while causing minimal harm to healthy tissue. By improving oral health, the procedure also raises the likelihood of dental implant placement being a success.
The LANAP® protocol offers patients with periodontal disease a less-invasive alternative to traditional gum surgery. During the procedure, Dr. Baker uses the Periolase® MVP-7(TM), which is a specialized laser that primarily affects gum disease, to remove the disease without making any cuts or sacrificing any healthy tissue. Dr. Baker can also use the laser to form a protective blood clot around the gum pocket, further lowering the risk of infections after the procedure. The procedure can quickly fix bleeding gums and relieve pain; most patients experience little discomfort or bleeding afterward. Most patients can resume their usual activities the day after laser gum surgery.
In some cases, the LANAP® protocol may save teeth damaged by gum disease, but when tooth loss cannot be avoided, Dr. Baker provides patients with a permanent replacement solution in the form of dental implants. Implants are anchored in the alveolar bone, like natural teeth, so they do not slip, make unnatural sounds, or require special maintenance. Patients who receive implants do not have to make dietary changes or worry about the bone density loss that normally follows tooth loss. To improve the likelihood of successful implant placement, Dr. Baker typically recommends that patients pursue treatment for oral health issues, including gum disease, prior to the procedure.
During Self-Improvement Month, Dr. Baker encourages patients to pay attention to their oral health and act early on any concerns. Many people see gum surgery primarily as a way to fix bleeding gums, but gum disease can have wide-ranging impacts on oral and general health if it advances. People who seek dental implants long after tooth loss occurs may no longer be good candidates for the procedure. Current and prospective patients can call Dr. Baker's office or visit his website to schedule an appointment.
About the Practice
Westlake Family Dental Care is a general practice offering personalized dental care for patients in Austin, TX since 1997. Dr. Baker received his dental degree from the University Of Texas Health Science Center San Antonio Dental School and scored in the top two percent of the nation in Endodontics and Periodontics. He is part of one percent of dental professionals providing the LANAP® FDA cleared laser procedure for gum disease and periodontal treatment. Dr. Baker stays abreast of the dental techniques and technology by attending at least 30 hours of continuing education each year. In addition to LANAP®, Dr. Baker provides services such as fixed lower dentures, mini-implants, and TMJ. To learn more about Westlake Dental Care and their dental services, visit their website at http://www.davidabaker.net and call (512) 782-8422.