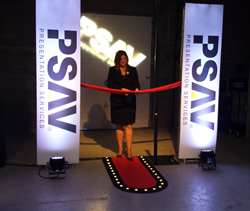 Schaumburg, IL (PRWEB) September 30, 2014
Due to the continued demand for audiovisual services in the Canadian hotel and conference center market, PSAV® recently opened a new 5,000 square foot branch office and equipment warehouse in Montreal, Canada, at 8540 10th Avenue. This facility will allow PSAV to better provide event technology services in this growing marketplace. This is the second international branch expansion this year for PSAV, joining the Germany location, which opened in May 2014.
The newest branch operation will support 15 hotels in the eastern region, as well as an additional five properties in the Ottawa area. This location will also provide service to PSAV's client-direct customers within the area. The addition of the Montreal branch office brings PSAV's global footprint to 44 branch offices throughout the world.
"Adding a branch office in the Montreal area responds to our client-direct growth, while optimizing our vast resources to the advantage of our customers. This operation makes additional high-end equipment and technical expertise readily available to our hotel partners and clients at a moments notice," stated Patricia Chiuppi-Silverio, vice president of operations & administration for PSAV in Canada.
The new facility allows PSAV to continue being a preferred global partner supplying hospitality professionals, technical experts, extensive audiovisual services and innovative technologies to event planners throughout the world. The work of the company's multinational team spans the globe, delivering the best in video, projection, lighting, set design, staging, mobile apps, sound, staging, high-speed Internet support, rigging, power distribution, high-definition virtual events, and special effects.
"The Montreal Branch allows PSAV to expand the Quebec corporate audiovisual market, a market that was brought to life by hard working PSAV team members in the region. In addition to complementing our existing on-site hotel audiovisual personnel, the branch will also support the needs of all PSAV clients, no matter where the event takes place," added Rick Smith, national director, branch operations, Canada.
About PSAV®
PSAV provides legendary service and innovative technology to create memorable experiences for planners, producers and customers across the corporate, association and special event markets. Combining local expertise and the broadest array of event technology, PSAV offers more resources in more places than any other audiovisual partner. PSAV employs more than 4,750 full-time, highly trained professionals in 1,300 destination resorts and hotels throughout the U.S., Canada, Mexico, Europe and the Middle East. http://www.psav.com
# # #