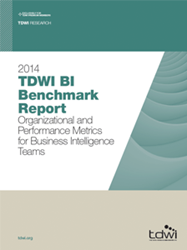 The 2014 report examines everything from BI team and budget sizes to reporting hierarchies, characteristics of BI environments, and factors for BI success in the enterprise.
Seattle, WA (PRWEB) September 25, 2014
TDWI Research today released the results of its 2014 TDWI BI Benchmark Report: Organizational and Performance Metrics for Business Intelligence Teams. The 2014 edition of the report discusses everything from BI team and budget sizes to reporting hierarchies, characteristics of BI environments, and BI maturity. The report also examines eight factors to determine which contribute most to BI success and failure, including years of experience building BI solutions, development methodology used, and FTEs per project.
The report examines an organization's experience and current practices in BI. Findings include:

The average number of years of BI experience has grown from 7.8 in 2010 to 9.2 today
The percentage of organizations with only one distinct BI team has declined from 44 percent in 2012 to 35 percent today
"Small and nimble" best describes the prevailing approach to BI staffing; 83 percent of organizations have BI teams of six or fewer full-time equivalent (FTE) employees deployed per project (the average is 5.1 FTE)
BI groups manage multiple projects at once, averaging 5.1 projects this year; 22 percent of organizations are juggling 10 or more projects
BI environments at the typical organization support an average of 10.8 subject areas (such as finance/accounting, HR, sales, and operations/production); nearly one-third (29 percent) of organizations support 11 or more areas
Sixty-one percent of BI developers use a mix of waterfall and agile models/methodologies
BI is clearly maturing, making the report more valuable than ever. For example, TDWI found that the percentage of BI/data warehouse environments no more than five years old dipped to 43 percent, the lowest recorded in the survey and down substantially from 59 percent in 2010; the percentage of organizations building BI environments for nine years or more grew to 40 percent (up from 21 percent in 2010)
This year's report continues TDWI's annual examination of the costs and benefits of business intelligence. Among the financial findings:
Capital spending on BI solutions and infrastructure took a leap forward in 2014, increasing at 53 percent of organizations, up significantly from the 39 percent of organizations that increased their budgets last year
The median capital budget for BI has grown from $250,000 in 2012 to $400,000 in 2014; it exceeds $500,000 at 42 percent of the organizations surveyed, though that's 10 percent or less of the overall IT capital budget at 74 percent of organizations
Over half (51 percent) of organizations see a positive ROI from BI within two years
Only one in four organizations enjoy a "high degree" of value from BI and data warehousing; this may be because organizations are taking on new and more complex projects, "often involving new big data sources and spanning a broader range of functional areas"
Many results remained steady from previous years. For example, TDWI reports that:
The greatest number of BI teams (41 percent) still report to the IT department; in 75 percent of all organizations, the BI team is up to 10 percent of the overall IT team
Internal employees make up 72 percent of a BI team; external contractors and systems integrators make up another 13 percent, roughly the same as in 2012
There's still room for growth in BI; nearly one-quarter (22 percent) report they are just starting out or have completed their first major implementation (compared to 21 percent in 2012); however, about one-third (32 percent) of organizations report operating "advanced" BI/data warehousing environments (down from 40 percent in 2012)
The Web-based survey of 357 BI professionals, business sponsors, users, and systems integrators worldwide took place during the spring and early summer of 2014.
For a complete copy of the report or to ask questions of the author, members of the press should contact Philip Russom at prussom@tdwi.org. The report is available for free to TDWI Premium Members at http://tdwi.org/research/2014/09/2014-tdwi-bi-benchmark-report-organizational-and-performance-metrics-for-business-intelligence-teams.aspx. You can find information about TDWI Premium Membership at tdwi.org/membership.
About TDWI
TDWI, a division of 1105 Media, Inc., is the premier provider of in-depth, high-quality education and research in the business intelligence, data warehousing, and analytics industry. TDWI is dedicated to educating business and information technology professionals about the best practices, strategies, techniques, and tools required to successfully design, build, maintain, and enhance business intelligence and data warehousing solutions. TDWI also fosters the advancement of business intelligence and data warehousing research and contributes to knowledge transfer and the professional development of its members. TDWI offers a worldwide membership program, five major educational conferences, topical educational seminars, role-based training, on-site courses, certification, solution provider partnerships, an awards program for best practices, live Webinars, resourceful publications, an in-depth research program, and a comprehensive website. For more information, visit tdwi.org or follow us on Twitter @TDWI.
About 1105 Media
1105 Media, Inc., is a leading provider of integrated information and media in targeted business-to-business markets, including specialized sectors of the information technology community; industrial health, safety, and compliance; security; environmental protection; and home healthcare. 1105's offerings span print and online magazines, journals, and newsletters; seminars, conferences, and trade shows; training courseware; and Web-based services. 1105 Media is based in Chatsworth, CA, with offices throughout the United States.
###
Media Contacts:
Philip Russom, TDWI
prussom(at)tdwi(dot)org; 781.862-2880
Roxanne Cooke, TDWI
rcooke(at)tdwi(dot)org; 425.277.9175