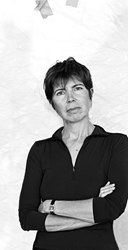 Chicago, IL (PRWEB) September 26, 2014
The Society of Architectural Historians (SAH), the Chicago Humanities Festival (CHF), and the Temple Hoyne Buell Center for the Study of American Architecture at Columbia University are partnering together to present "Elizabeth Diller: Beyond the Blueprints," on Sunday, November 9, at Northwestern University's Thorne Auditorium, 375 E. Chicago Avenue. The program is part of CHF's 25th Anniversary Fall Festival, which explores the theme of Journeys. To view a complete schedule, visit chicagohumanities.org/journeys.
A founding partner of the New York-based design studio Diller Scofidio + Renfro (DS+R), Elizabeth Diller is a visionary architect whose completed projects include New York City's High Line and Lincoln Center renovation; Boston's Institute for Contemporary Art; The Broad Museum in Los Angeles; the Creative Arts Center at Brown University; and Blur, designed for the 2002 Swiss Expo. She was the first MacArthur Fellow in the discipline of architecture. Join Diller for a wide-ranging conversation on the role of architecture in contemporary life with University of Illinois architectural historian Dianne Harris.
Harris is a past president of SAH and the director of the Illinois Program for Research in the Humanities and a professor at the University of Illinois at Urbana-Champaign. She is an architectural historian who specializes in the study of suburbs and suburban houses in the postwar United States. Her most recent publication is "Little White Houses: How the Postwar House Constructed Race in America."
Tickets are $15 for CHF members; $20 for the general public; and $10 for students and teachers. Tickets may be purchased at chicagohumanities.org or by calling the CHF Box Office at 312.494.9509, Monday through Friday, 10 a.m. to 5 p.m.
For more information on this program, visit http://chicagohumanities.org/events/2014/journeys/elizabeth-diller-beyond-the-blueprints.
About SAH
Founded in 1940, the Society of Architectural Historians is a nonprofit membership organization that promotes the study, interpretation and conservation of architecture, design, landscapes and urbanism worldwide. SAH serves a network of local, national and international institutions and individuals who, by vocation or avocation, focus on the built environment and its role in shaping contemporary life. SAH promotes meaningful public engagement with the history of the built environment through advocacy efforts, print and online publications, and local, national and international programs. Learn more at sah.org.
About CHF
For 25 years, the Chicago Humanities Festival has celebrated the questions that shape and define us as individuals, communities, and cultures. For the intellectually curious, CHF's vibrant year-round programming and robust Fall Festival offer the opportunity to engage with some of the world's most brilliant minds. Collaborating with leading arts, cultural, and educational organizations, it presents scholars, artists and architects, thinkers, theologians, and policy makers that change how we see the world, where we're from, and where we're going. CHF also presents the spring Stages, Sights & Sounds, Chicago's only international children's theater festival. Visit chicagohumanities.org for more information.
Liz Diller photo credit: Abe Morrell