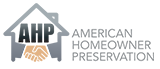 Chicago, IL (PRWEB) September 29, 2014
American Homeowner Preservation ("AHP") performed a mortgage modification this week for a New York homeowner who was skeptical about working with yet another lender. In purchasing distressed mortgages, AHP is oftentimes the third or fourth lender for borrowers who may have worked out trial modifications with previous lenders, only to have the agreement disappear as fast as the lenders themselves. In order to strengthen homeowners and communities, AHP strives to offer borrowers sustainable solutions borrowers to keep their homes.
Sean purchased his Buffalo, NY home in 2003 after going through a divorce. Sean then found it difficult to support his two children while balancing his mortgage payments. "With alimony and child support, there wasn't a whole lot of money left," Sean said.
Like many of the borrowers AHP works with, Sean filed for bankruptcy. Sean's loan was eventually sold, and in working with his second lender, he reached a modification which settled his delinquent payments and reduced his monthly payments. Five months later, however, Sean's mortgage was sold to a new company. Sean eventually stopped making payments because he was not sure who owned his loan anymore or where he needed to send his payments.
AHP acquired Sean's loan in its latest pool of mortgages and notified him that, after years of non-payment, he could settled his delinquency for $2,000 and resume his regular payments from his previous modification. Yet, like many other borrowers who have been presented with "to-good-to-be-true" deals, Sean was wary.
"I was kind of skeptical of this whole thing," Sean said. "I went ahead and did it, but I worked with a couple other lenders who had made offers and then, all of a sudden, they sold the mortgage to somebody else. Then, somebody else is telling me you can make the payments to me, but they don't have the previous paper work. So I was actually pretty skeptical of this whole thing."
Once the process started, Sean found it difficult to make the $2,000 payment, and found comfort in the fact AHP was able to break it up into several more affordable payments. Sean also found it convenient that AHP was able to email him all the necessary paperwork for the loan modification while providing direct, single point of contact service over the phone.
In purchasing distressed mortgages and working with borrowers, AHP aims to put homeowners back on track with payments that allow them to recover from financial turmoil. AHP's Founder and CEO Jorge Newbery recognizes the skepticism among borrowers given the rampant exchange of mortgage loans since the housing bubble.
"Often times, there is a lack of communication between borrowers and lenders that causes unnecessary confusion," Newbery said. "As soon as we purchase a borrower's mortgage, we let them know that we are the owner and we present options that allow them to get back on track with payments. Our goal is to be as transparent as possible and let borrowers know that we are here to help, 100 percent."
American Homeowner Preservation is a socially responsible investment fund manager which empowers accredited investors to purchase equity in pools of distressed mortgages and earn returns of 9-12%. For further information or inquiries please visit https://ahpinvest.com or call 800-555-1055.