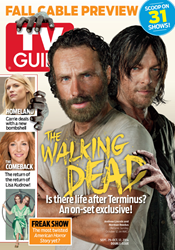 New York, New York (PRWEB) September 25, 2014
The third of TV Guide Magazine's annual fall TV trilogy, the Fall Cable Preview issue, arrives on newsstands and lands in subscriber mailboxes (or on their digital tablets) this week. The issue, dated September 29–October 12, 2014, covers cable TV's new and returning shows.
In the cover feature "Killer Instinct," TV Guide Magazine senior writer Rob Moynihan travels to the Georgia set of The Walking Dead, where he sat down with the show's stars to get a taste of the zombie drama's deadly fifth season. At the end of last season, the show's characters are reunited – and captured – inside Terminus, a mysterious sanctuary where the residents harbor a secret. "It's a nightclub!" jokes star Norman Reedus, who plays Daryl Dixon. Andrew Lincoln (who stars as Rick Grimes) says the characters find themselves in the worst jeopardy they've been in a while, but also at their strongest. "I think people generally won't be disappointed with the opener," he says. Also: TV Guide Magazine reveals what Reedus threw at Lincoln the first time the two met. And the two recount the cast's "death dinners," held whenever a major character perishes and that actor must leave the show. "We've had a lot," Lincoln says.
Among the other returning shows chronicled in the issue are Homeland (Showtime), which opens up with a new storyline this season. Stars Clare Danes and Mandy Patinkin, as well as executive producer Alex Gansa, give TV Guide Magazine senior writer Ileane Rudolph the details. For the return of HBO's The Comeback, star Lisa Kudrow talks to TV Guide Magazine writer-at-large Michael Logan. Also included: American Horror Story: Freak Show (FX) and American Dad (TBS). New shows chronicled include Survivor's Remorse (Starz), Star Wars Rebels (Disney XD), Transporter: The Series (TNT), Happyland (MTV) and Ascension (Syfy).
Also in this issue:
-- TV Guide Magazine offers a handy dossier for Fox's new murder mystery Gracepoint. Who's a suspect? Everyone on the show. And here's why each character might or might not be guilty.
-- A look inside Kingdom, the new DirecTV drama set inside the world of mixed martial arts fighting.
-- Why is your cable bill so high? TV Guide Magazine answers burning questions about why it's so expensive, and whether that will ever change. Executive editor Michael Schneider also breaks down how much consumers pay for each channel, starting with ESPN (at $6.04 per subscriber).
-- Good Morning America's Lara Spencer fills out TV Guide Magazine's "My Obsessions" survey.
-- An inside look at why the networks and cable/satellite providers would like viewers to stop using their digital video recorders and switch to video on-demand instead. "I'd rather you catch up on VOD," says Fox TV Group COO Joe Earley.
-- Has the Utopia dream crumbled? Business editor Stephen Battaglio looks at how much longer the struggling Fox reality series might survive.
-- The "Rerun" column looks back at the moment on October 3, 1992, when Sinead O'Connor tore Pope John Paul II's photo on Saturday Night Live.
-- First look photos on The Big Picture page, from Brooklyn Nine-Nine, Sleepy Hollow and The Mysteries of Laura.
-- In the highlights section, Q&As with Katharine McPhee (Scorpion), Karen Gillan (Selfie), Phoebe Tonkin (The Originals) and The Goldbergs guest star Ana Gasteyer. Also: Season finale previews of FX's The Bridge and The Strain.
-- Regular features including Matt Roush's reviews and list of Top 10 Must-See Shows, Cheers & Jeers and America's Most Watched top 25 ratings chart.
About TV Guide Magazine
TV Guide Magazine LLC is owned by OpenGate Capital, the global private buy-out and investment firm that acquired the magazine in 2008. TV Guide Magazine is one of the most popular magazines in the country with over 12 million weekly readers. From behind-the-scenes looks at broadcast, cable, syndicated and online programming to sneak peeks at television's most intriguing plotlines, TV Guide Magazine has every corner of the television medium covered. Celebrating more than 60 years as America's most trusted television authority, TV Guide Magazine is the premier source for entertainment news, guidance and information about the country's most popular leisure time activity.
For more information, please visit tvguide.com/magazine. TV Guide Magazine can also be found on Twitter @TVGuideMagazine; on Facebook at http://www.facebook.com/TVGuideMagazine; and on Instagram at instagram.com/tvguidemagazine