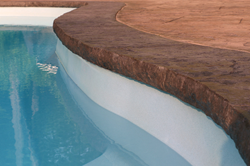 Morris, ILLINOIS (PRWEB) September 25, 2014
Contractor Source in Morris, Illinois just announced the initial shipment of the anticipated Z Poolform concrete pool coping forming system. The patented system, called Z Poolform, marks a breakthrough development in the construction of concrete pool copings and decks.
Z Poolforms are made from hard, PVC plastic and lock directly into the liner track on vinyl liner pools, or into a special receiver track on concrete and fiberglass pools. Specially designed polyurethane form liners made by Walttools are then inserted into the forms which gives the users a variety of profiles and design textures to choose from. Currently, the 7 profiles allow architects and designers to compliment any environment. Contractor Source also offers a variety of stamping tools and texture mats that will complete the look of the coping. Don Ciesielski of Walttools says, "The natural stone edges profiles we created for this system offer visually attractive coping edges never seen before on a concrete pool edge."
Z Poolform is the premier concrete pool forming system and is environmentally friendly. Unlike competitive systems that are disposable, the Z system is reusable and easy to install, with no large bags of nuisance Styrofoam waste going to the landfill.
In product testing, a two-man crew installed the entire system in under 2 hours. Founder and President Ed Baldoni expects this new forming system to save contractors time and effort during installation, and to ensure more consistent results than traditional Styrofoam forms.
The Z Poolform product line is available for purchase at Contractor Source in Morris, Illinois or in their online store.
Any interested distributors should contact dario(at)concretecountertopsolutions(dot)com