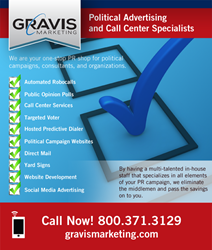 This is an exciting time for Gravis, Neil will be a great addition. Said Doug Kaplan President of Gravis Marketing
(PRWEB) September 25, 2014
Gravis Marketing, a global leader in innovated marketing, polling and call center services is proud to announce the addition of journalist Neil W. McCabe to the Gravis Marketing team.
McCabe will serve as the new Political Director for Winter Springs, Fla. based company – a role that prepares Gravis Marketing to accelerate their growth within the highly competitive political marketplace and to become one of the premier political polling firms.
McCabe joins the Gravis Marketing team with a strong background in journalism and political history. His vast experience and passion for politics is a welcome addition the Gravis Marketing and places the political marketing solutions and hosted predictive dialer software provider a needed addition to activate their expansion program.
"I had the honor of meeting Neil over two-years ago and in a very short period of time I realized he would be an outstanding addition to our Gravis Marketing team," noted Doug Kaplan; the founding partner and President of Gravis Marketing. "He has consulted me on improving our political polling methods and we have worked together on multiple projects. As we expand to other outlets and ventures, it made sense to bring him on and formalize his role. I am excited that he will become the new political director of Gravis Marketing. With his experience and grasp of the political landscape, we are poised to expand our core-capabilities and provide much better value to all clients."
McCabe is equally excited to join the Gravis Marketing team. "Doug and the Gravis team are building one of the strongest brands in political polling," noted McCabe. "Through the Human Events/Gravis polls we have pulled an end-run around the spin-doctors and the media chorus to tell readers what is really going on in races across the country. Our previous polls have not made everybody happy however it's better to know the truth – as discovery of the truth is the best method to provide accurate data for any industry."
In his new role, McCabe will act as the public face of the company and help further develop its own media platforms. "As the political director at Gravis, I will oversee the analysis and editorial associated with the polls and act as a liaison between the company and its partners," stated McCabe. "This is an exciting time to be covering politics. With Gravis Marketing, we have the unique opportunity to make a positive impact on the future of political marketing. I'm truly looking forward to this outstanding opportunity."
About Neil W McCabe
McCabe is the editor of the Human Events Guns & Patriots e-letter and a columnist for The Canada Free Press and Townhall.com. For eight years, he was a reporter for The Pilot, the newspaper of the Archdiocese of Boston and was the editor of both The Somerville News and The Alewife, both free neighborhood newspapers in the Boston-area. For 15 months, he deployed to Iraq as a combat historian in 2009 to 2010. He is married with four children.
About Gravis Marketing
Established in 2010 by co-founder Doug Kaplan, Gravis Marketing is a non-partisan research firm headquartered in Winter Springs, Florida. Gravis Marketing was the recipient of the 2013 American Association of Political Consultants Award for 2012 Presidential Primary domestic and international phone calls. To learn more about Gravis Marketing and review previous State and Federal polling data' including their recent poll from Connecticut that infused Gravis Internet Panels to their complete polling package, please visit their website @ http://www.GravisMarketing.com.