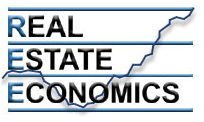 San Clemente, CA (PRWEB) September 27, 2014
Real Estate Economics has released its third quarter National Residential Economic Report. Pertinent conclusions set forth in this report are as follows:

During recessionary years, the nations' level of housing under valuation actually exceeded levels of housing over valuation recorded during the pre-recession 'bubble'.
After strong market conditions and 'hyper' price appreciation from mid-Year 2012 through Year 2013, sales volume and price appreciation are now slowing across the nation – not because of reduced housing demand, but rather due to reduced affordability.
From July 2013 to July 2014, housing price appreciation has averaged 5.2% in the nation, with housing price appreciation (in percentage terms) slightly skewed toward smaller homes.
The rate of economic expansion in the nation slowed slightly during 1st quarter 2014, but has since resumed at a healthier rate as the construction job base and the public sector job base have begun to grow. Economic growth is likely to continue to increase at a faster rate during the next several quarters as the private sector continues to expand, as construction continues to recover and as both a public and private sector-driven economic cycle continues to mature.
During Year 2014, the nation's housing market will rapidly head toward under supply. Between Years 2015 and 2019, the housing market will become increasingly under supplied, but housing over valuation will arise by Year 2017. Over valuation will continue from Year 2017 through Year 2019, but not at the dangerous levels associated with the pre-recession 'bubble' as laws, private practices and regulations have been put in place to avoid unsubstantiated housing demand and price appreciation. If a price correction occurs, it will be relative modest, and will likely occur sometime after the forecast period.
Overall, the next five years will be typified by healthy housing market conditions – chronic under supply of housing and a sustained period of some over valuation during the latter half of the 5 year forecast, with diminishing levels of price appreciation as the market rides a high price plateau.
For a limited time, Real Estate Economics is pleased to make available our Residential Economic Report - National Edition to any and all entities interested in our careful examination and forecast of the nation's residential real estate market. Our most recent issue can be accessed here.
About Real Estate Economics
Home builders and developers face an ever changing economic landscape. As the leading provider of housing market data and statistics, Real Estate Economics offers online market research tools designed to allow our clients to analyze their market areas using the most powerful database in the home building industry.
For more information on how Real Estate Economics can help land developers, home builders, site acquisition specialists, real estate professionals and financial institutions, please visit RealEstateEconomics.com or call (949) 502- 5151.