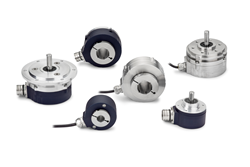 Goleta, CA (PRWEB) October 08, 2014
The new functional safety incremental encoder range from BEI Sensors is certified by TÜV Rheinland and provides the most complete safety encoder offering on the market today. These encoders can be used in the highest industrial safety related applications up to SIL3/PLe Cat. 4, and are mechanically and electrically designed to safety standards EN ISO 13849-1, IEC/EN 61 508, and IEC/EN 62061. The range is offered with a standard Sine/Cosine analog electronic output or an industry-first for safety encoders: a digital (TTL or HTL) electronic output.
Seven distinct encoder models are available with options to fit a variety of installations. These choices include 58 mm or 90 mm body sizes, shafted or through shaft styles with cable or connector terminations, resolutions up to 2500 PPR, and a selection of shafts and bore sizes. This product family has aluminum encoder housings for most standard industrial applications, or optional stainless steel housings to withstand harsh outdoor or washdown environments. High ingress protection ratings are available up to IP69K for high pressure and high temperature washdowns.
A number of innovative safety mechanics features have been designed into this new offer to provide greater reliability. These include an additional bearing in the cover on through shaft models for better overload capability, positive shaft locks to prevent sliding of the encoder on motor shafts, insulated secure sleeves to protect against stray currents, accurate stator couplings and tether arms for safe mounting on the driving motors.
Safety applications with BEI Sensors products are as simple to implement as any other standard industrial installation. The functional safety encoder range is backward compatible with non-safety related encoders, making it easy to upgrade existing installations.
For more information on the new range, to download the BEI Sensors SISTEMA product library, or to view a white paper on functional safety, visit http://www.beisensors.com/safety.
BEI Sensors will feature the Functional Safety Encoders at SPS IPC Drives in Nuremberg, Germany, November 25-27, (Hall 4A, Booth 535). Visitors are invited to explore the new encoder range and speak with a product expert to learn how BEI Sensors can help with any new or existing safety requirements.
About BEI Sensors
BEI Sensors specializes in speed and position sensors for extreme applications. With an extensive product offering including optical and magnetic encoders, Hall effect sensors, and potentiometers, BEI offers standard configurations to completely customized solutions. Specialized products for extreme applications include those for wash-down and corrosive environments, extended operating temperatures, high shock and vibration, wet and dirty operations and products certified for hazardous area use. BEI Sensors upholds a standard of excellence in our products, customer service experience, and commitment to being a global leader in speed and position sensor technology.
BEI Sensors is a brand of Custom Sensors & Technologies (CST).
About Custom Sensors & Technologies
Custom Sensors & Technologies (CST) is a specialist in designing and manufacturing sensing, control and motion products.
Through its brands, BEI Kimco, BEI Sensors, BEI PSSC, Crouzet, Crydom, Kavlico, Newall and Systron Donner Inertial, CST offers customizable, reliable and efficient components for mission-critical systems in Aerospace & Defense, Transportation, Energy & Infrastructure, Medical, Food and Beverage and Building Equipment markets.
Focused on premium value offers and committed to excellence, CST, with 4.500 employees worldwide and sales of $600M US in 2013, is the dependable and adaptable partner for the most demanding customers. http://www.cstsensors.com