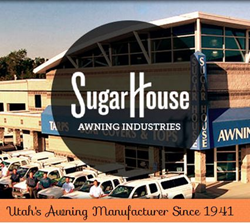 Most people are surprised by the amount of energy they can save. Our focus is to create quality products that conserve resources and therefore save money for our customers
SLC, Utah (PRWEB) September 26, 2014
Sugar House Awning announces efforts to raise consumer awareness about the benefits of awnings and energy conservation. The leading distributor of custom awnings and specialty canvas covers offers quality products that effectively lower usage and overall energy costs.
Excessive use of heating and cooling systems can lead to hefty utility bills. This waste impacts both the environment and consumers' budgets by costing hundreds of extra dollars each year. Sugar House Awning's outdoor shading devices promote energy efficiency and increase the protection of a home or business.
Fabric awnings are proven to decrease electrical use by making buildings more sustainable because they radiate solar energy in the summer thus reducing cooling costs.
"Educating our customers about awnings and their energy-saving capabilities is important," says Mike Peterson, the owner of Sugar House Awning. "Most people are surprised by the amount of energy they can save. Our focus is to create quality products that conserve resources and therefore save money for our customers."
Utah's Rocky Mountain Power encourages home and business owners to install exterior shading devices. Retractable awnings in particular extend savings beyond the summer months. When the awning is withdrawn in the winter, solar radiation penetrates windows and glass doors to warm the interior and lower heating charges.
Energy savings vary according to the structure of the building, lifestyle of the consumer, and the actual cost of power. In 2012, a study funded by the Professional Awning Manufacturers Association revealed that fabric awnings and external shades can minimize overall consumption by 10 percent and save up to $200 annually.
The need for awnings in the U.S. has risen sharply over the last decade due to limited budgets and environmental concern. This demand is expected to grow as energy costs continue to rise.
There are further benefits of installing awnings above windows and patio areas, including: added aesthetic appeal and functionality; lower prices than energy-efficient windows; reduction of greenhouse gas emissions; and their collective use prevents blackouts by placing less of a demand on the overall energy infrastructure.
Regardless of the design, awnings are smart investments that ensure consumers get the most from their energy dollar. Sugar House Awning offers a complete line of exterior shading options in a variety of styles, colors and fabrics. Every project is made with the finest materials and tailored to meet the needs of each customer.
About Sugar House Awning
Sugar House Awning & Canvas Products is one of the largest manufacturers of custom awnings, boat tops, and specialty canvas covers. The family-owned establishment began in 1941 and features a wide range of residential and commercial products, including: traditional and retractable awnings, patio covers and canopies, tension structures and shade sails; boat tops, full enclosures, and snap on/tie down boat covers. The company also specializes in canvas covers for any type of structure, such as A/C units, outdoor furniture, patio grills, fountains, cars and trailers. Retail signage and furniture repair are also available upon request. Sugar House Awning is located in Midvale, UT. For more information, go to http://www.sugarhouseawning.com.