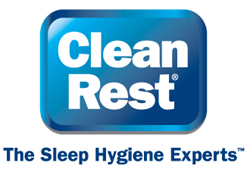 Warwick, Rhode Island (PRWEB) September 26, 2014
Rising New England CES MMA Fighter and network TV start Lewis Corapi will begin training with Team CleanBrands against his most formidable opponent – bed bugs!! Mr. Corapi, standing 5'9 and 170 pounds, with a record of 6-1-0 and expected to be featured on Mark Cuban's AXS TV, will be wearing MMA trunks that sport the CleanBrands patented MicronOne® Shield while he has a light workout and signs sports memorabilia for local charities.
Helping to "train" Mr. Corapi will be third generation textile technology expert Gary Goldberg, founder and CEO of CleanBrands, a trusted leader in mattress, box spring and pillow protection against bed bugs and microtoxins. As part of his endorsement deal, Mr. Corapi will star in the company's CleanRest advertising, social media, educational campaigns, and marketing materials at specially-selected trade shows.
Mr. Corapi competes against the world's toughest fighters and now he begins a new battle against a fearless blood sucking opponent that attacks its victims in the middle of night, showing no mercy and always coming back for more. Bed bugs may be growing in numbers but Mr. Corapi promises to take them to the mat through an aggressive marketing campaign intended to support contractors, retailers, and consumers alike.
What: Rising New England MMA fighter Lewis Corapi trains against his toughest opponent with Gary Goldberg, trainer and CEO of CleanBrands, one of the nation's leading developers of mattress protection technology.
When: Friday, September 26
11:00 AM
Where: 240 Bald Hill Rd
Warwick, RI 02886
Who: MMA Fighter Lewis Corapi
CleanBrands CEO Gary Goldberg