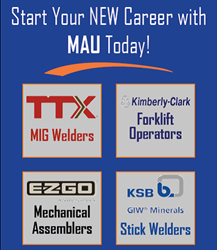 Augusta, GA (PRWEB) September 26, 2014
MAU Workforce Solutions is hosting a hiring event with instant interviews to fill immediate job openings at great companies in Augusta. The event will take place on Monday, September 29th from 9:00am-2:00pm at the DoubleTree Hotel, 2651 Perimeter Parkway, Augusta, GA.
Applicants must apply online prior to attending the event in order to participate in an interview. Applicants must also submit to background check and drug screen. Click here to apply now.
Positions Available*:
E-Z-GO - Mechanical Assemblers
KSB GIW Minerals - Stick Welders
Kimberly-Clark - Forklift Operators
TTX - MIG Welders
*Minimum 1 year experience required with 2+ preferred. We also welcome recent Tech School Graduates.
Monday, September 29, 2014
DoubleTree Hotel
2651 Perimeter Parkway
Augusta, GA 30909
MAU Workforce Solutions staffs excellent, effective people for their partners, allowing them to focus on their core competencies. Headquartered in Augusta, GA since 1973, MAU is a family-owned, minority company making lives better for applicants, clients, and employees through innovative workforce solutions. Today, with Branch and vendor on premise locations across the South and recruiting partners worldwide, MAU has global capabilities to help with all staffing, recruiting, and outsourcing needs.