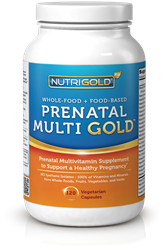 Orem, UT (PRWEB) September 30, 2014
A vital step towards a safe and healthy pregnancy is to obtain quality prenatal care on a regular basis. Expectant mothers are told to take daily prenatal vitamins so their bodies can provide the essential nutrients growing babies will need during fetal development.
Lowering stress levels during pregnancy is often emphasized as well. One issue that pregnant women shouldn't have to stress about is the quality and potency of their daily prenatal supplements. The raw materials used to create synthetic vitamins, used in many prenatal supplements today, are created in a lab and can increase the toxic load on the body leading to potentially adverse reactions. This is not what the doctor ordered. Read more about the important distinctions between synthetic vitamin isolates vs. vitamins from food on NutriGold's blog (http://www.nutrigold.com/blog)
Toxic load is not a risk associated with vitamins sourced from natural foods. NutriGold's Prenatal Multi Gold ™ offers just this type of nourishing source. Prenatal Multi Gold ™ is a synergistic complex of whole-food nutrients extracted from certified organic fruits, vegetables, and herbs, and cultured in a Body Ready Active Nutrient Matrix ™. Iron and folic acid contained in the product come from 100% natural sources.
Healthy levels of folic acid and iron have been linked to normal fetal brain development, therefore expectant mothers should demand the highest quality ingredients possible from their supplement brand. NutriGold has proved time and time again that they place a high priority on the needs of expectant mothers everywhere.
FREE SAMPLES
For free product samples of NutriGold supplements, please visit http://www.nutrigold.com/Free-Sample-Prenatal
ABOUT NUTRIGOLD
NutriGold is a science-based nutraceutical company committed to identifying, developing, and offering cutting-edge nutraceutical products. With a portfolio of best-in-class products at reasonable prices backed by unmatched service, NutriGold is not just raising the bar on quality, but is helping define the standards for the rest of the industry to follow and this is reflected in its:
+ Use of non-GMO, organic, whole-food, and clinically-proven ingredients
+ Uncompromising efforts to manufacture products without artificial ingredients, Stearates, Laurates, Sulfates, and Dioxides
+ Voluntary, extensive third party testing of all raw materials and finished products for identity, purity, potency, and safety
+ Resolute efforts to ensure that all products are free of contaminants, adulterants, allergens, and GMOs
+ Unwavering commitment to transparency, accountability, and truth in advertising
+ Initiatives to educate consumers so they can make informed decisions that affect their health
Website: http://www.nutrigold.com
Phone: 1-866-224-4680
Facebook: facebook.com/NutrigoldUSA
Google Plus: plus.google.com/+NutrigoldUSA
Twitter: twitter.com/Nutrigold_USA