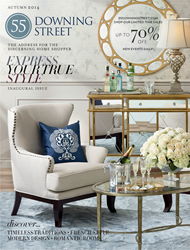 55 Downing Street is also premiering a new catalog and website, created to appeal to the customer's sophisticated design sensibility.
Los Angeles, California (PRWEB) September 29, 2014
Home decor and furnishings site 55DowningStreet.com announced today that it is introducing three new proprietary brands -- Chateau Lux, Kensington Hill and Verona Road -- created with the discerning shopper in mind. These collections of home goods serve up high end design at value pricing, and are available exclusively through 55 Downing Street and its parent company Lamps Plus.
"We developed our house brands to appeal to the cosmopolitan style sense of the 55 Downing Street customer," explains Manja Swanson, chief creative officer, 55 Downing Street and Lamps Plus. "Verona Road is a collection of accessories that speaks to the enduring appeal of timeworn treasures. The comfortable yet classic designs of Kensington Hill are inspired by British heritage. And Chateau Lux is a charming homage to French-inspired furniture and accessories. And best of all, because they're designed in-house, we can deliver great designs at a price point not found elsewhere."
Additionally, 55 Downing Street is premiering a new catalog and redesigned website, created to appeal to its customer's sophisticated design sensibility. Featuring the retailer's wide product selection amidst beautifully photographed vignettes (including full page spreads with the proprietary brand designs), the catalog is intended to serve as a look book for the home decorator. "Since launching our site over two years ago, we've discovered that our customers are stylish, daring, know what they want, and how to get it for less," says Swanson. "So we developed the catalog to inspire and embolden shoppers like them to express their true style."
At 55 Downing Street, customers have access to a wide selection of designer home furnishings and decor through both a permanent merchandise selection and daily flash sale events, offering savings up to 70 percent off. In addition to the proprietary brands, shoppers can find a number of recognized brand names for the home, including Angelo Home, Rachael Ray and Cake Boss. 55 Downing Street is backed by parent company Lamps Plus and its worldwide team of design experts. This guarantees shoppers a level of service uncommon in the flash sales arena, including free shipping on most items, hassle-free returns, and the expedience of having most designs ship straight from the company's Southern California warehouse.
Swanson concludes, "From entertaining guests to creating a romantic bedroom to decorating your dream living room, you'll find designer home furnishings, accessories and more to make it happen at 55DowningStreet.com."
About 55 Downing Street
55 Downing Street is a new concept in online retail, offering both permanent merchandise assortments and limited-time, limited-quantity home furnishings sale events. Featuring designer furniture, home decor and lighting at exceptional discounts, 55 Downing Street is part of Lamps Plus, America's largest and most trusted lighting retailer. 55DowningStreet.com offers perks not found on most flash sale sites, including a no-nonsense return policy, attentive customer service and top quality products sourced from the parent company's worldwide team of industry experts. With sale events organized around design and seasonal themes at savings up to 70 percent off, 55DowningStreet.com is the new destination for deep discounts on high style. New sale events are added every Monday, Tuesday, Wednesday, Thursday and Friday at 55DowningStreet.com.