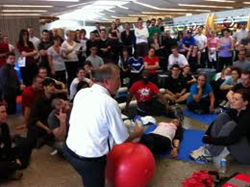 'At the end of the day, it's all about function.' - Dr. Craig Liebenson
Astoria, New York (PRWEB) September 27, 2014
Athletes fall away from competition and once-active individuals back off from sports and exercise due to faulty movement patterns and the discomfort these create.
Now, with a very special series of athletic development courses, presented by Hands-On Seminars and delivered by Dr. Craig Liebenson, physical therapists and fitness trainers can learn to return to patients their natural posture, core strength and athletic development.
Here is just a sampling of what physical therapists and fitness trainers will learn in this "Prague School to Athletic Development" series:

Developmental exercises for abdominals, diaphragm & pelvic floor
How to control intra-abdominal pressure
Utilize "hard-wired" programs to re-set your natural posture & release muscle tension automatically
Assessment of Faulty Movement Pattern
The Stability-Power Continuum & Safe Return to Activity/Sport (triple flexion for triple extension, movement prep)
The role of the diaphragm, pelvic floor & stabilization system in cylinder function
Dr. Craig Liebenson is Director of L.A. Sports and Spine and an Honorary Fellow of the Prague School of Manual Medicine & Rehabilitation.
He first began organizing programs in North America for Dr. Vladimir Janda and Dr. Karel Lewit beginning in 1987. Dr. Liebenson has facilitated programs with Prague School faculty in Prague, Sweden, Denmark, England, Australia and North America. Currently, he is engaged in research w/ Dr. Stuart McGill at the University of Waterloo, Canada investigating many of the Prague inspired principles.
Dr. Liebenson is an Adjunct Professor in the School of Chiropractic, Division of Health Sciences at Murdoch University, Perth Australia and consultant for the Murdoch University and the Anglo-European Chiropratic College M.Sc. programs in Chiropractic Rehabilitation. The first ever chiropractic member of the McKenzie Institute (U.S.) Board of Directors, he serves on the editorial boards of numerous manual therapy and rehabilitation oriented journals.
Dr. Liebenson is actively engaged in ongoing research on the spinal stabilization system as a Visiting Scholar at Dr. Stuart McGill's Spine Biomechanics Laboratory at the University of Waterloo.
He has been the team chiropractor for the N.B.A. Los Angeles Clippers since 2005 and is currently a consultant for the M.L.B. Arizona Diamondbacks.
Courses will be held in:
Manhattan, New York
Beginning October 2014
Price from $250 and up
The material covered in the seminar is appropriate for PTs, PTAs, OTs, OTAs, LMTs, ATCs and Fitness Trainers.
Hands-On Seminars, Inc. (HOS) is the leading international continuing education organization in the world, awarded the Lecture & Seminars Award as the best Lecture and Seminar Company from the Lectures and Seminars Bureau over the past two years. Their purpose is to provide the best quality Manual Therapy seminars at an affordable cost. For further information, please contact: Alexandra Rosner at 888-767-5003 or info(at)handsonseminars(dot)com
###