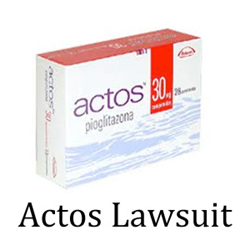 Wright & Schulte LLC offers FREE Actos lawsuit evaluations to those who have been diagnosed with Actos bladder cancer. Visit www.yourlegalhelp.com, or call 1-800-399-0795
Columbus, OH (PRWEB) October 05, 2014
An Actos lawsuit filed by Wright & Schulte LLC on behalf of a Maryland man contend that Takeda Pharmaceuticals America, Inc., which manufactures and markets Actos, did not adequately warn the plaintiff and other consumers about the risks associated with using Actos to treat diabetes. As a result, the Actos complaint alleges that the man was diagnosed with bladder cancer in September 2013 due to using the prescription diabetes medication since January 2008. The Actos lawsuit contends Takeda knew about the health risks linked to long-term use of the diabetes medication but did not want to disclose the information in order to achieve its "marketing goal by making Actos the tenth best-selling medication in the United States all while placing American citizens at risk for developing bladder cancer." According to the Actos complaint, filed in the Circuit Court of Cook County, Illinois, the Maryland resident has been permanently and severely injured due to his diagnosis of bladder cancer. (Case No. 2014-L-006253)
The defective drug attorneys at Wright & Schulte LLC are representing clients from across the country who believe they have been diagnosed with bladder cancer as a result of taking of Actos, and continues to offer free legal evaluations. Contact one of the attorneys at Wright & Schulte LLC by calling 1-800-399-0795 or visit yourlegalhelp.com for more information on Actos side-effects.
Actos, generically known as pioglitazone, was approved by the U.S. Food & Drug Administration (FDA) in July 1999 to treat Type II diabetes. In September 2010, the FDA announced that it was reviewing data from an ongoing, 10-year epidemiological study established to determine whether the use of Actos is associated with an increased risk of bladder cancer. According to the FDA, the five-year results of this study showed that although there was no overall increased risk of bladder cancer with pioglitazone use, there appeared to be an increased risk of bladder cancer among patients with the longest exposure to pioglitazone, and in those who took high doses of pioglitazone. At that time, Actos had become a popular diabetes medication because the federal agency noted that from January 2010 through October 2010, 2.3 million patients filled a prescription for products containing pioglitazone. By June 2011, the FDA issued a warning that individuals taking Actos for more than one year may be at an increased risk of developing bladder cancer. The FDA had information about the risk of bladder cancer added to the Warnings and Precautions section of the label for medications containing pioglitazone and to the patient Medication Guide for these medications.
[fda.gov/Drugs/DrugSafety/ucm226214.htm, June 15, 2011]
Prior to the FDA's June 2011 warning regarding Actos, the American Diabetes Association published a study that suggested that the use of pioglitazone was associated with the risk of bladder cancer. The study reviewed adverse events reports made to the FDA between 2004 and 2009 regarding pioglitazone. The study compared patients treated with pioglitazone to patients who did not use pioglitazone. Researchers found an increased risk of cancer in patients who used pioglitazone for more than two years. The study also found that 95 percent of the cancers diagnosed among pioglitazone users were detected at an early stage. A post hoc analysis suggests further increased risk of bladder cancer with even longer periods of exposure to pioglitazone. [care.diabetesjournals.org/content/34/4/916.full, April 2011]
According to court documents, after the FDA's warning in June 2011, a request was made to a panel of federal judges in August of that same year, to consolidate Actos bladder cancer lawsuits filed in different federal courts across the country. A panel of federal judges granted the request in December 2011 by transferring all federally filed Actos complaints to the U.S. District Court for the Western District of Louisiana (In Re: Actos (Pioglitazone) Products Liability Litigation-MDL 2299). As of August 15, 2014, 3,672 Actos complaints are pending in the Louisiana federal court for pretrial proceedings under the supervision of U.S. District Judge Rebecca F. Doherty. The first case selected for trial under MDL 2299 was a lawsuit filed on behalf of a New York man who alleged that he developed bladder cancer as a result of taking Actos since 2006. (12-cv-00064) The case went to trial in April 2014 before Judge Doherty and ended with the federal jury ordering Takeda Pharmaceuticals USA Inc. and Eli Lilly & Co. to pay a combined $9 billion in punitive damages. The companies appealed the verdict but Judge Doherty denied the appeal in August.
jpml.uscourts.gov/sites/jpml/files/Pending_MDL_Dockets_By_District-August-15-2014.pfd, August 15, 2014]
About Wright & Schulte LLC
Wright & Schulte LLC, an experienced personal injury firm, is dedicated to the belief that America's legal system should work for the people. Every day, the attorneys of Wright & Schulte LLC stand up for the rights of people who have been injured or wronged and fight tirelessly to ensure that even the world's most powerful corporations take responsibility for their actions. If you're looking for a law firm that will guarantee the aggressive and personal representation you deserve, please do not hesitate to contact Wright & Schulte LLC today. Free Actos lawsuit case evaluations and other harmful drug lawsuit evaluations are available through yourlegalhelp.com or by calling 1-800-399-0795.
Contact:
Wright & Schulte LLC
812 East National Road
Vandalia, Ohio 45377
1-800-399-0795
http://www.yourlegalhelp.com
Like us on Facebook
Follow us on Twitter
Join us on Google+