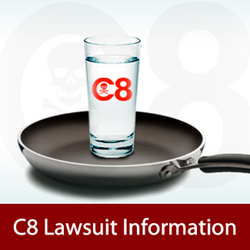 If you believe you or a loved one have been exposed to C8 contaminated drinking water, contact Wright & Schulte LLC for a FREE C8 lawsuit case evaluation at www.yourlegalhelp.com or 1-800-399-0795.
Columbus, OH (PRWEB) October 14, 2014
Wright & Schulte LLC has filed a C8 lawsuit lawsuit on behalf of a 45-year-old West Virginia man who alleges that he developed kidney cancer as a result of consuming C8 contaminated water. According to the C8 complaint, the man has lived in the Lubeck Water District in West Virginia since 1969. The lawsuit stated that the West Virginia resident was diagnosed with kidney cancer allegedly as a result of DuPont's Washington Works Plant in Wood County, West Virginia, discharging the C8 chemical into the human drinking water supply. The C8 complaint further alleges that the West Virginia man sustained severe and permanent personal injuries, pain and suffering, and emotional distress. According to the C8 lawsuit, DuPont conducted an internal analyses of water samples collected near the plant indicating that C8 was present in the public water sources of locations in both Ohio and West Virginia. The C8 lawsuit purports that despite the DuPont's knowledge of C8's potential toxicity and carcinogenicity, the company continued throughout the rest of the 1980s and into the early 2000s to increase the amount of C8 wastes it discharged from the plant directly into the air, the Ohio River, and unlined non-hazardous waste landfills in the vicinity of the plant and local drinking water wells. The C8 lawsuit was filed in the U.S. District Court, Southern District of West Virginia. (2:14-cv-00187)
Kidney cancer is one of six health disorders a C8 Science Panel discovered was linked to C8 exposure. According to the panel, C8 is a name given to perfluorooctanoic acid, a man-made chemical used in manufacturing such products as non-stick cookware, and protective finishes on carpets and water-resistant clothing. The C8 Science Panel was formed as part of a class action lawsuit settlement in 2005. In 2001, a class action lawsuit was filed against DuPont on behalf of nearly 70,000 residents in Ohio and West Virginia. (Leach v. E.I. Du Pont De Nemours & Co., No. 01-C-608 (W. Va. Cir. Ct.)) Under the terms of the settlement, DuPont agreed to pay for the creation of a science panel that would explore probable links between C8 exposure and any human diseases. If the panel discovered there were probable links, anyone who consumed C8 contaminated drinking water from private drinking water wells or from one of six affected water districts for at least one year prior to December 4, 2004, could file individual personal injury lawsuits. The affected water districts are City of Belpre, Ohio; Little Hocking, Ohio; Tuppers Plains, Ohio; Village of Pomeroy, Ohio; Lubeck Public Service District, West Virginia; and Mason County Public Service District, West Virginia.
[c8sciencepanel.org/panel.html]
In October 2012, the C8 Science Panel determined that there is a probable link between exposure to C8 and the following disorders:

Testicular Cancer
Kidney Cancer
Thyroid Disease
High Cholesterol
Ulcerative Colitis (inflammatory bowel disease)
Pregnancy-Induced Hypertension (pre-eclampsia).
[c8sciencepanel.org/prob_link.html]
According to the C8 Science Panel's report, DuPont's Washington Works Plant in Parkersburg, West Virginia, released C8 into the air and the Ohio River from the 1950s until the early 2000s. The panel found that the C8 chemical contaminated the drinking water supplies by entering the groundwater and was discovered in 2002 near the DuPont facility. The report said that air emissions, for the most part, were eliminated as have been any major releases into the Ohio River. The study further found that DuPont was using carbon filters to remove the C8 chemical from water systems near the Washington Works Plant.
Wright & Schulte LLC is representing numerous Ohio and West Virginia residents in C8 lawsuits who have suffered health problems allegedly as a result of their exposure to C8 contaminated water. Attorney Richard W. Schulte, a founding partner with Wright & Schulte LLC, is on the Plaintiffs' Steering Committee for the C8 litigation in the U.S. District Court, Southern District of Ohio. Wright & Schulte LLC encourages individuals who have suffered from health problems and live in any of the six areas designated by the C8 Science Panel as having C8 contaminated drinking water to contact one of our attorneys for a free legal evaluation by calling 1-800-399-0795 or by visiting http://www.yourlegalhelp.com.
About Wright & Schulte LLC
Wright & Schulte LLC, an experienced personal injury firm, is dedicated to the belief that America's legal system should work for the people. Every day, the attorneys of Wright Schulte LLC stand up for the rights of people who have been injured or wronged, and fight tirelessly to ensure that even the world's most powerful corporations take responsibility for their actions. If you're looking for a law firm that will guarantee the aggressive and personal representation you deserve, please do not hesitate to contact Wright & Schulte LLC today. Free DuPont C8 lawsuit case evaluations are available through yourlegalhelp.com, or call 1-888-399-0795.
Contact:
Wright & Schulte LLC
812 East National Road
Vandalia, Ohio 45377
1-800-399-0795
http://www.yourlegalhelp.com