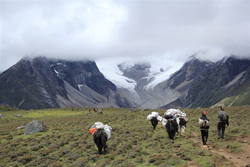 Lhasa, Tibet (PRWEB) September 28, 2014
At an elevation of 8,848.13 meters, Mt.Everest, is the main peak of the Himalayas. This world's No. 1 peak rises high on the border of China and Nepal. Its northern slope lies in the Tingri County of Tibet. Commanding reverence from fellow giant peaks nearby, Mount Everest is shaped just like a majestic pyramid propping up the sky for the Earth.
For foreign travellers, Everest Base Camp has become one of the most popular trekking destinations in Tibet, offering the chance to gaze on the magnificent north face of the world's highest peak-- Mount Everest. Tibet Vista, the biggest Tibet tour operator sends thousands of travelers to travel to EBC every year. "I'm sure we can help more and more trekkers realize their dream," said Lobsang Tsering the chief tour guide of Tibet Vista.
"For travelers who want to trek to Everest, there are so many things to prepare, but there are some important items you cannot miss," said Lobsang Tsering .
1. Trekking pole
It will be lifesaving when you're suffering from Acute Mountain Sickness (AMS). Also it's invaluable when ascending steep mountains. The road to Everest is rough, windy and covered with ice and snow. A trekking pole could be very helpful when travelers are exhausted.
 
2. Sleeping bag
You really need a warm sleeping bag when in Tibet because at night the temperature drops dramatically. A good sleep ensures you high spirits for the next trekking day. Especially when you are at Everest, the weather is freezing. When trekking to Rongbuk Monastery, trekkers could choose to stay at Rongbuk Monastery Guesthouse, which offers beds and stove to keep warm.
3. Back bag
If you are carrying your own stuff, it's really important to have a comfortable back bag. However, if you hire a porter, that would save you this trouble. But please keep in mind that it would be so cold after mid-October that many porters may not want to do this business.
4. Trekking boot
Since tourists will travel mainly by feet. It's very important to keep feet comfortable when trekking. A pair of decent trekking boot is also very necessary.
About Tibet Vista
Tibet Vista (http://www.tibettravel.org) is the best local tour operator, sending more than 1,000 individual travelers and over 100 tour groups to Tibet annually. It helps travelers obtain the Tibet Travel Permits, book air/train tickets to Tibet and customize their tours.