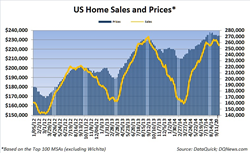 Home sales may outperform 2013 this fall and winter.
Chicago, IL (PRWEB) September 25, 2014
Lenders like Peoples Home Equity have mixed sentiments regarding September 25th's National Home Sales Snapshot released by DQnews.com.
Today, DQnews.com reported that home sales fell -1.6% while median home prices rose 0.2%. Sales fell for the second consecutive week to 255,709. National median home prices rose to $234,450 which is 3.3% higher than this time last year, and 26.7% higher than 3 years ago.
Interestingly, The National Home Sales Snapshot of September 18th showed that 2014 home sales were -3.3% below that of 2013. Now, despite the decline in home sales for September 25th, the gap has narrowed to just -2.5% vs. 2013. This means the rate of declining home sales was slower during this period than that of 2013 which is a good thing. Peoples Home Equity thinks 2014 home sales may outperform 2013 this fall and winter. U.S. real estate has a great imbalance of tight housing inventory and high demand. More Americans are becoming eligible for a home loan thanks to newly found employment. Lenders like Peoples Home Equity are helping these Americans get pre-approved for home loans to purchase homes and save money versus paying rent.
If one is unsure of whether they may apply for a home loan or not, visit PeoplesHomeEquity.com and use their online mortgage calculators. "Monthly Payment Calculator", "Should I Pay Points" and "How Much Will I Save By Refinancing" are just a few of the useful tools Peoples Home Equity offers. Users will certainly have a better understanding of their finances relating to real estate again after playing around with the online tools.
If one prefers to speak to a person instead, contact a Peoples Home Equity loan officer today at: 262-563-4026