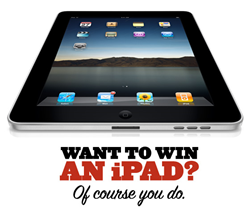 Share to win!
Las Vegas, Nevada (PRWEB) September 26, 2014
The tax preparation offices of iQTAXX, which is located in Las Vegas, Nevada, recently announced that it is currently running a contest giving away the winner's choice of an iPad or $500.
Only residents of the United States, who are at least eighteen years of age, can participate in the sweepstakes. In order to enter the contest, individuals must "like" the iQTAXX Tax Services Las Vegas Facebook page, share the company's $50 coupon with Facebook friends, and submit their personal email address.
The individual's entry provides his legal consent to become a participant in the contest and have the first or full name used for marketing purposes. Only one entry is allowed per person for the entire duration of the contest. The odds of winning the contest are contingent upon the number of entries received. Only one person will be selected as a winner.
Interested individuals are invited to visit iqtaxx.com for more information regarding the contest. Only one of the two prizes will be awarded, unless iQTAXX makes a determination to change the prize without input from the prize winner.
About iQTAXX
iQTAXX is a full-service tax preparation and accounting company providing services to businesses and individuals in Las Vegas, Nevada. The company handles book balancing, payroll, and accounting matters in addition to tax preparation. Access to an informative, education-driven website is offered to anyone who wishes to learn more about tax preparation.
iQTAXX
Las Vegas Tax Professionals
6620 West Flamingo Road
Suite 3
Las Vegas, NV 89103
702.871.7884
702.933.3127 (Fax)
Iqtaxx.com
###