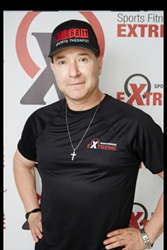 "After suffering with my own pain for years, I know firsthand how debilitating it feels. My personal experience allows me to provide clients with a way to overcome pain and improve their wellbeing beyond just massage."
Los Angeles, CA (PRWEB) September 26, 2014
Arturo "Art San" Sanchez, LMT, CCh, Master Therapist, or as his patients fondly refer to him, "The Pain Eraser", helps patients overcome injuries and ailments by using a unique style of clinical bodywork called Effective Muscle Release (EMR) with trigger point and other modalities. Clients are offered a variety of services including sports massage, bodywork, and hypnotherapy. San will be a guest speaker at the American Health Information Management Associates (AHIMA) Convention in San Diego, California from September 28 through October 1, 2014.
San will also participate as an exhibitor at the AHIMA, the most extensive exposition in the Health Information Management industry that attracts healthcare professionals from around the world. Fans of San's expertise look forward to his upcoming book, "Pain Free and Powerful: The Art of Pain-Free Living," which is expected to hit shelves in 2015. The book is an introduction to pain-free living and contains many practical daily techniques. San is also available for public, inspirational and motivational speaking, as well as employee safety and injury prevention workshops.
San, a massage therapist and wellness expert, conquered his own chronic pain and for more than 10 years has been helping patients do the same. He survived a near-fatal motorcycle accident that almost paralyzed him, suffering a fractured back, severed foot, and profound blood loss. He lived with chronic pain for years before receiving massage therapy training and developing EMR as a method to relieve his pain.
Sports Massage Extreme is located in Los Angeles. San is a Licensed Massage Therapist, Certified Clinical Hypnotherapist and Certified Reflexologist who brings 30 years of experience to the health and wellness field. He specializes in pain elimination, injury recovery, and trans-dynamic movement techniques and has provided professional sports therapy and pain management to celebrities, professional/amateur athletes and bodybuilders in the greater Los Angeles/Orange County area. He is currently working with Parkinson's patients.
"After suffering with my own pain for years, I know firsthand how debilitating it feels. My personal experience allows me to provide clients with a way to overcome pain and improve their wellbeing beyond just massage," said San.
San, "The Pain Eraser," is dedicated to providing his clients with the most effective services from his premier team of doctors, holistic health practitioners, therapists and energy workers. His achievements have been featured on Trojan Vision, USC's student television station, and in the book Off Balance, The American Way of Health: A Pharmacist's Perspective on Why Drugs Don't Work, by Leyla Ali, Pharm.D.
To learn more about Art San and Sports Massage Extreme, or to schedule an appointment, please visit http://www.sportsmassageextreme.com. Also, follow Sports Massage Extreme on Twitter @sportsmassagex and on Facebook at http://www.facebook.com/art.san.71.