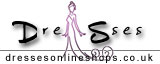 (PRWEB) September 26, 2014
DressesOnlineShops.co.uk, a leading online supplier of wedding dresses and women's special occasion outfits, has unveiled its new collection of chiffon evening dresses. These new fashionable gowns are specially made to expand the company's global market. They are all made from comfortable fabrics.
What's more, all the new items are now available at discounted prices now, up to 75% off. The special offer will come to an end on October 15, 2014. Also, most of them are available under $180 at the moment.
"We are pleased to announce our new chiffon evening dress collection. Along with the low rates, we also offer low shipping fees. Now, we have thousands of fashionable outfits in stock. And we provide custom made dresses for those who have specific needs. I have confidence our evening gowns, for most of our products are popular among worldwide clients. I think all the new items will exceed customer expectation," the company's sales manager says.
As a matter of fact, DressesOnlineShops.co.uk's new selection comes in several hot designs in the market, including empire gowns, mermaid gowns, sheath gowns, princess gowns and so on. The company's staff has updated its website to show the latest items.
About DressesOnlineShops.co.uk:
DressesOnlineShops.co.uk is a leading dress company offering a wide range of fashionable products—all of its outfits are available in various sizes. The company is now doing its business in many parts of the world, including Australia, the UK, the US, Canada and so on. Now, it focuses on the expanding its online market.
More details about the reliable supplier's new items can be found at:http://www.dressesonlineshops.co.uk/.