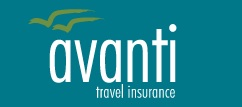 Because the blog is updated on an almost daily basis, it means the news offered is always fresh and up-to-date
(PRWEB UK) 8 October 2014
Avanti Travel Insurance have recently made considerable changes to their blog, making it the perfect tool for customers to find the latest information regarding the tourism sector.
Already renowned for combining fantastic value for money with impeccable customer service, it's not by luck that they are regarded as one of the best names in the travel insurance business. The blog is Avanti's next step to helping their customers enjoy a great holiday experience, serving as the place to find the latest news and in-depth articles that discuss a variety of topics relating to holidays.
Because the blog is updated on an almost daily basis, it means the news offered is always fresh and up-to-date. As well as this, Avanti have also started creating informative guides to help their customers make the most of their upcoming holidays. From a guide to the best time to visit top holiday destinations to their round up of the best holiday apps to download, these articles have been written with great care and precision to be of the best benefit to all travellers.
To take a look at the Avanti blog, just head to the Avanti website.
While the articles will be helpful for those currently looking forward to their holidays, their hope is that they will also inspire people to book their getaways and explore the world for themselves – something which the yearly travel insurance packages from Avanti Travel Insurance can certainly help with.