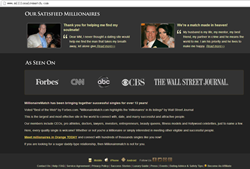 (PRWEB) September 27, 2014
MillionaireMatch.com, a high-profile dating site for millionaires and celebrities, announced the results of a survey where it polled single women with incomes over $200,000+ in net income. MillionaireMatch.com is a highly regarded and well established dating site featured on CNN, CBS, ABC and others.
Here, for the first time, are the results of the survey done by MillionaireMatch.com:
74.2% - The percentage of women with incomes of over $200,000 that are seeking casual daters.
91.06% - The percentage of women with incomes of over $200,000 that are seeking long-term relationships.
80.35% - The percentage of women with incomes of over $200,000 that are seeking marriage.
Despite the high number of women that are seeking out some forms of relationships, whether it's dating, marriage, friends, or something else, others suggest that this may not be the case. One comment left by the Huffington Post viewer Pavane, noted "I know some extremely wealthy women who will ONLY date men their financial equals. But, interestingly enough, none of these women have any interest in marrying. They simply value their independence too much." http://www.huffingtonpost.com/2013/10/10/millionaire_0_n_4079216.html
MillionaireMatch.com was founded 13 years ago, and has since become the premier dating site for millionaires and admirers.
The site is filled with real-life stories of success. As in the case of MrRomance2010 and Seeking_Mia, from Los Angeles, CA – "We met here on MillionaireMatch. After dating for 9 months, I proposed to her inside a horse drawn carriage while traveling through Central Park in New York City. Fortunately, she said yes! We are getting married at a beautiful hotel in Santa Barbara overlooking the ocean one week! Then it's off to Bora Bora for the honeymoon.". More millionaire match success stories can be found at:http://www.millionairematch.com/success_stories_millionaire_dating_1.html
So what is the answer to "Do Millionaire Women Prefer not to Marry?" From both the data and comments, it appears that most of them do not want to get married quickly. They want to try all kinds of relationships to find that special someone, and don't mind going on casual dates to find him.