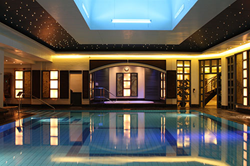 SenSpa has consecutively won this award for the past two years, with the help of its loyal customer base and those who have visited from afar
New Forest, Southampton, Hampshire (PRWEB UK) 29 September 2014
Award Winning New Forest Spa, SenSpa, located within Careys Manor Hotel has been nominated for 'Best Spa in the South-East' at the 2014 Good Spa Guide Awards. Voting for the awards is open to the public and closes at the end of October.
Voting re-opens on October 1st to choose a winner from the shortlist, with the victor being announced on 18th November.
SenSpa has consecutively won this award for the past two years, with the help of its loyal customer base and those who have visited from afar. With the hope of clinching the title again this year, the Hampshire Spa is looking forward to hearing the shortlisted finalists in October.
What makes SenSpa stand out from the rest is the high quality facilities available to the guests. The hydrotherapy area combines age-old therapies with state of the art technologies using facilities such as the hydrotherapy pool, laconicum, tepidarium, herbal sauna, crystal steam room, ice room and a range of unique health showers.
The spa is also popular for its authentic Thai ethos inspired by holistic wellness with a focus on the mind, body and soul. As well as its award winning hydrotherapy facilities, the spa combines eastern and western traditions which are reflected in its award winning treatments.
The spa's western and Thai therapists are fully trained and qualified to perform these treatments which are widely renowned as being extremely relaxing and professional.
Spa Director, Lina Lotto is elated with the news of being nominated for the award again this year, stating, "SenSpa is a hidden treasure within the New Forest where people come to escape daily life and relax. To win 'Best Spa in the South-East' for the third consecutive year would be fantastic."
"Each individual who works at SenSpa brings their own special quality which forms our unique character. Their individual and collective efforts have been the chief reason for our achievements and this would be a great way to celebrate our 10th Birthday."
Having received multiple awards including 'Best Spa in the South-East 2012 & 2013' (The Good Spa Guide), Winner of 'Best UK Hotel Spa 2013′ and 'Best UK Signature Treatment 2013′ (European Health & Spa Awards) and 'Therapist of the Year 2014' (Professional Beauty Awards), SenSpa continues to deliver spa excellence to its valued guests.
To vote for SenSpa at the Good Spa Guide Awards please click here.
For more information please visit: http://www.senspa.co.uk or call 01590 623551.