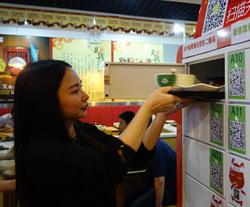 "If designing a restaurant for use with Kung Food in the future, I'd probably remove the original queueing space, add more seating, and use fewer counters and service staff"
Chongqing, China (PRWEB) September 29, 2014
Fast Get Tech Ltd has launched an initiative that tackles peak-time waiting problems for restaurants and their customers, using a combination of food-storage lockers and 'Online2Offline' (O2O) mobile payment technology. The lockers are installed and maintained by Fast Get Tech, while O2O enables a customer to make a purchase online using their phone, then collect the product or service offline. Users of the Kung Food smartphone app can order food en route to a restaurant, on average ready to eat just 2 minutes after ordering.
Chongqing has an urban population of 7.5 million, and is the manufacturing site of approximately 1/4 of the world's laptops, yet remains relatively unknown outside of China. Each day in Chongqing's central business district, thousands of workers pour out of their offices for lunch; to save time, many select one of the city's multitude of fast-food restaurants. It is here they encounter the problem common to fast-food restaurants globally: peak-time queues.
Kung Food users search for nearby restaurants, ranked by distance. They view the menu, place an immediate order and make an instant payment to Kung Food using O2O. The customer's phone receives order confirmation and displays a timer, showing how many seconds remain before their order is placed into a locker, ready for collection. As soon as the food is stored inside, a retrieval code and the locker number are automatically sent to the customer's phone; on arrival the customer scans the locker's code to retrieve their meal.
"This would have been hard to imagine before," Kung Food user Zheng Jia says. "Now, I order from my phone on the way to the restaurant, and by the time I get there, I can take my food straight away and sit down to eat."
Peak-time Kung Food orders average at 200 per restaurant per day. Customers are encouraged to pre-order close to the time they are ready to eat: locker storage is free for 3 minutes, after which a late-collection fee of 0.5 Renminbi ($0.08) per minute is billed to their mobile account.
"If designing a restaurant for use with Kung Food in the future, I'd probably remove the original queueing space, add more seating, and use fewer counters and service staff," says Lao He, owner of a restaurant utilizing Kung Food's service system.
Currently Kung Food settles payments to restaurants at the end of each day; payments will switch to a weekly basis on achieving nationwide coverage. The app is quickly gaining popularity via discount promotions, encouraging users to download the app and try it. A version of Kung Food integrates with Tencent's WeChat, the Chinese mobile internet platform which boasts 400 million active users.
Mobile Internet in China is big and getting bigger: Mary Meeker's Internet Trends 2014 reported that in 2013 China's 500 million mobile Internet users accounted for 80% of the country's total Internet users (published May 28th 2014). Featured in the report is China's 'Didi Taxi', which in March 2014 facilitated 5 million taxi rides per day via O2O payments – up from 350,000 in January 2014.
China's fast-food industry demonstrates strong growth, in step with urbanisation and a growing tertiary sector. KFC holds the largest share with 4,563 restaurants listed in 2013, a 59% increase compared to 2009. Chongqing's own CSC franchise was backed by SIG Investment and Sequoia Capital at its initial public offering (IPO) in September 2010. The company reported positive net income on a total revenue of $224.6 million in 2013.
About Fast Get Tech Ltd
Fast Get Tech was established in May 2014 in Chongqing, China, and is dedicated to using technology to improve efficiency in the fast-food industry. Fast Get Tech's founders are specialists in internet innovation and the fast-food industry, having gained rich experience with US and Japanese corporations.
Fast Get Tech's investor is optimistic about the future development of the fast-food industry; they previously acted as 'angel investor' for a start-up which brought a return 80 times greater than the initial investment at its IPO.
'Kung Food' is the Western name of Fast Get Tech's smartphone application 'Su Wei', as it is known in China. The Kung Food business model is to provide restaurants with free intelligent software systems and equipment. Kung Food will not seek to make profits within its first 3 years of operation.
Contact Information
Kang Lufa, Company Director
Fast Get Tech Ltd
(+86) 186-2316-0101
http://www.suweia.com