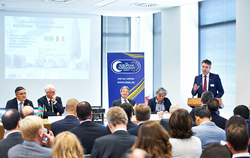 Azerbaijan is a thriving country, in terms of its economy, engagement with the west and stability.
Brussels, Belgium (PRWEB UK) 26 September 2014
The first 'Business Forum Brussels–Azerbaijan' took place at the offices of the Wallonia Export–Investment Agency (AWEX) in Brussels on 25 September. Organised by the Belgian office of The European Azerbaijan Society (TEAS) in the wake of the successful TEAS Business Forum series in London and Paris, this event focused on the non-oil sector. This reflected the official designation of 2014 as the Year of Industry in Azerbaijan, as the country strives to develop its export markets, diversify the economy, and accede to the World Trade Organisation. In addition to AWEX, the partners were Flanders Investment and Trade (FIT) and Brussels Invest and Export (BIE).
The event, attended by around 200 delegates, was organised to inform representatives of Belgian companies of the opportunities Azerbaijan has to offer in the construction, agricultural and environmental sectors.
Lionel Zetter, Director, TEAS explained: "Azerbaijan is a thriving country, in terms of its economy, engagement with the west and stability. All visitors will be aware that it is a very relaxed and free place to do business. It is one of the most western countries in the EU Eastern Partnership. Azerbaijan is a great place to visit, to live and do business in."
Johan Van Dessel, Director-General, Bilateral and Economic Affairs: External Trade and Development Co-operation, Belgian Ministry of Foreign Affairs, commented: "Bilateral relations between Belgium and Azerbaijan are good, but there is always room for improvement. Belgium – an EU member – is pleased to work with Azerbaijan within the framework of the EU Eastern Partnership. It recognises that there is sustainable political stability on all levels of society, and this is key to a long-term relationship. Azerbaijan currently holds the Presidency of the Committee of Ministers of the Council of Europe. They will be succeeded by Belgium in November, and we very much look forward to continuing the valued work of the Azerbaijani Presidency."
H.E. Fuad Isgandarov, Ambassador of the Republic of Azerbaijan to the Kingdom of Belgium and Head of the Azerbaijani mission to the EU, acknowledged: "I have just returned from Baku, where I participated in the groundbreaking ceremony for the Southern Corridor, which will bring Azerbaijani Caspian gas to Europe by 2019. This is a huge $45bn project, and Azerbaijan decided to face towards Europe. Shareholders include the Belgian company Fluxys. We need the technologies and scientific approaches from the West to develop our country. That is why hundreds of students are sent overseas each year on Presidential scholarships – they will be the new generation of managers. Welcome to Azerbaijan – you are very welcome to participate in the future of my country."
Rovshan Najaf, Executive Director, Azerbaijan Investment Company (AIC) said: "Azerbaijan has been one of the fastest growing economies in the world over the past few years, and is the largest economy of the South Caucasus. The non-oil sector has been the catalyst for economic growth over the past five years, and we have a clear strategy to develop this sector.
"We want Azerbaijan to be transformed into a knowledge-based economy. There is a very liberal investment climate and we have signed 46 bilateral investment treaties and 45 double taxation treaties, and 65 per cent of foreign investment is in the non-oil sector. I hope the next business forum in Brussels will feature joint ventures between the AIC and Belgian companies."
Haji Huseynov, Senior Infrastructure Specialist, World Bank said: "The Baku Masterplan for 2030 is currently underway. We are seeking to develop the road and public transport system in readiness for the European Olympics in 2015. The government has developed a new approach to water provision, which will include 85 new reservoirs and a new waste water treatment plan."
Azerbaijan has nine climatic zones, and produces a great range of fruit and vegetables. These are currently exported to such neighbouring countries as Turkey, Russia and Georgia, but there are many potential markets for Azerbaijani produce across Western Europe. Rashad Majidov, Director, International Co-operation Department, Azerbaijani Ministry of Agriculture, commented: "Agriculture employs 40 per cent of people, and it is the second greatest export after hydrocarbons. It is the driver of the non-oil sector, but only accounts for 5.1 per cent of GDP. It is almost entirely in private hands. We have achieved an annual level of 5 per cent growth over the past decade. The government is giving tax exemptions to encourage agricultural production and investment in new crop types, fertiliser and equipment. There are great opportunities to apply Belgian expertise to production."
During the Soviet period, the unregulated oil industry had an undeniable impact on the Azerbaijani environment. Eric Blétard, Economic and Commercial Attaché for Azerbaijan, Turkey and Turkmenistan, AWEX said: "I led a mission to Azerbaijan and discovered the country is very open for business. Environmental issues are one of the main problems that need to be tackled in relation to water, soil and air. This is similar to Wallonia, which has had many brownfield sites needing remediation, and we can export our knowledge."
Ogtay Mammadov, Head of Public Relations Department, Absheron Lakes Rehabilitation Programme, Tamiz Shahar Company explained: "We are spending over half a billion Euros on remediating nine lakes, which have been contaminated by decades of uncontrolled Soviet-era oil extraction. We are hoping one lake will be remediated as a resort in readiness for the European Olympics in 2015. There are great opportunities for Belgian companies to be involved in restoring these lakes."
Leon Cook, Marketing and Communications Director, TEAS, summed up: "Azerbaijan is a country that is open for business. Fitch and Standard and Poor's rate Azerbaijan as a Tier 2 country – the economy is very strong and moving in the right direction. It takes two days to establish a company in Azerbaijan – which is an excellent statistic. High-level delegations need to go to the Azerbaijani regions and do business there. Azerbaijan looks towards and seeks engagement with Belgium and across the EU."
The event concluded with a networking lunch.