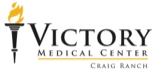 McKinney, Texas (PRWEB) September 26, 2014
Victory Medical Center Craig Ranch celebrates its one-year anniversary of serving the McKinney, Texas, community this month. The specialized surgical hospital provides a first-class level of care and comfort in select surgical fields ranging from highly specialized neck and spine to bariatric and more.
"Our model of one-to-one patient care, combined with the top surgeons in North Texas, result in what I believe to be the best possible outcomes for our patients," said Ashley Anson, CEO of Victory Medical Center Craig Ranch. "You can see this in our patient satisfaction scores and low infection rates."
Notably, the hospital opened its pediatric unit this summer focused on orthopedics, ear, nose and throat (ENT) and general surgery. The doctors working in the pediatrics department are all specially trained to evaluate the needs of infants, children and adolescents. By the end of September, the specialized surgical hospital will have performed more than 500 pediatric surgeries.
"Our team of more than 75 employees values bringing quality care to the McKinney area and being part of this wonderful community," added Anson, who recently was named to the Dallas Business Journal's 2014 list of Who's Who in Health Care.
The 58,000-square-foot hospital includes 20 private patient suites, five operating rooms, a four-bed intensive care unit, three special procedure rooms as well as an adjoining 56,000-square-foot medical office building. Victory Medical Center Craig Ranch specializes in bariatric surgery, ENT, gastroenterology, general surgery, gynecology, hand surgery, neurosurgery, orthopedics, pain management, plastic surgery, podiatry, spinal surgery, sports medicine and urology.
For more information on Victory Medical Center Craig Ranch and all of its specialties, visit: http://www.victory-healthcare.com/craig-ranch.
About Victory Medical Center Craig Ranch
Victory Medical Center Craig Ranch is a private surgical hospital that provides leading-edge technology and superior personalized care from the region's top physicians. Patients will experience the Victory Difference – a dedication to healing through education, technology and first-class care – at any one of Victory Healthcare's surgical hospitals. At Victory Medical Center Craig Ranch, patients will receive first-class care including a dedicated nurse, private, spacious patient suites, and luxury amenities such as gourmet food Wi-Fi, high quality linens and convenient front door parking. Victory Healthcare operates in partnership with our physicians to create a new standard of surgical care. For more information, visit us at victory-healthcare.com/craigranch or follow us on Twitter @VMCCR.
About Victory Healthcare
Based in The Woodlands, Texas, privately owned Victory Healthcare is creating the standard in surgical care through its growing network of specialized surgical hospitals. Our surgeons are the most highly trained and respected physicians in their fields, committed to providing revolutionary technology and minimally invasive treatment techniques. We create a first class experience for our patients in our state-of-the-art facilities that include concierge services, a one-to-one patient care, and personalized service in an environment designed to promote comfort and healing. Victory Healthcare partners with physicians to create an exceptional surgical experience for our patients, their families, and our surgeons. Learn more about the Victory difference – a dedication to healing through education, technology and first-class care - at victory-healthcare.com or follow us on Twitter @VictoryCor.