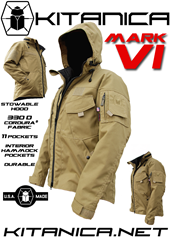 The last jacket you will ever need.
Oakland, CA (PRWEB) October 09, 2014
Introducing the MARK VI, the latest release by Kitanica in the aggressively styled MARK Series of heavy-duty outerwear. This is the company's first stowable hooded jacket, and the first to be constructed of incredibly light and durable 330 denier CORDURA® fabric. The Mark Series jackets are super-tough, shell jackets constructed of nylon CORDURA® fabric ranging from 330 denier on the MARK VI, 500 denier on the MARK V and 1000 denier on the MARK I and MARK IV. These jackets are all entirely cut and sewn in the U.S. and made of 100% U.S. made materials. Some of the key features of the newly released MARK VI are: 7 exterior pockets and 4 interior pockets including 2 unique bulk storage hammock pockets. The MARK VI's stowable hood is also constructed of 330 denier CORDURA® fabric providing a uniform look and zero compromises in terms of durability and performance. The fabric is urethane coated for excellent wind and water resistency. All zippers are YKK® brand, all hook and loop is Velcro® brand and all seams are sewn with bonded-69 nylon thread for industrial strength seam integrity. All of Kitanica's products are made in the USA with domestically produced materials. The entire MARK Series is sewn in-house at Kitanica's Oakland CA headquarters. The new MARK VI has an MSRP of $449.00 USD. There are four jackets total in the MARK Series: MARK I, MARK IV, MARK V and MARK VI.
About Kitanica the company:
Kitanica is a word derived from "chitin" pronounced (pronounced Kәi•tin), a key component of insect exoskeletons. Due to the overbuilt nature of their designs, Kitanica arrived at the name as it best described their mission to make the most functional and durable gear possible. Kitanica is a family owned and operated business run by Beej Cronin, his brother Chris Cronin and their cousin Leonard Riccio. Beej Cronin is Chief of Design, while Len Riccio is Chief Operating Officer and Chief Financial Officer, and Chris Cronin serves as Chief Marketing Officer. These three partners grew up together on the East Coast and have worked side-by-side for a lifetime on hundreds of different projects making everything from a 2 bedroom home to tennis ball cannons. Kitanica was originally formed in Brooklyn, NY in 1995 and moved to San Francisco in 1997. There, Adam Savage, a customer and friend, started wearing his Kitanica MARK IV on national television, and the world began to become aware of the remarkably distinctive utilitarian products Kitanica was producing. Today Kitanica ships to retailers and customer-direct all over the world.