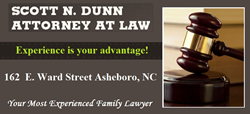 Collaborative process makes it more affordable for people seeking divorce and may allow more focus on the children involved so its impact is less harmful.
Asheboro, NC (PRWEB) September 26, 2014
Scott N. Dunn is proud to announce that he is now offering collaborative law at his Asheboro, North Carolina law practice. In response to the new information about high divorce rates in North Carolina, Dunn is providing collaborative mediation to carry out peaceful divorces.
The U.S. Census Report indicated that divorce rates tend to be higher in the South, because marriage rates are also higher in the South. In the State of North Carolina, people divorce at slightly higher rates than in most other states.
To divorce in North Carolina, either spouse must have been a resident for at least six months. The divorce proceedings will be in the county where either party resides. As a divorce lawyer, Scott N. Dunn can provide divorce advice and counsel to anyone in the State of North Carolina and its counties.
Those who wish to resolve family law cases peacefully and cooperatively will see the extra benefits of collaborative mediation in how it affects children. According to research by Stuart G. Webb, how a couple conducts themselves during a divorce has a far greater impact on children than the act of divorcing itself. Using an experienced divorce attorney like Scott Dunn for collaborative divorce can really impact the emotional responses from children affected by parent separation.
Those considering divorce should always remember that spouses with children are always tied to each other, whether they are married or not. There will be times in the course of a child's life that child support modification will be implemented as the child's needs change. Starting a divorce off in a peaceful and collaborative manner will only make things easier on the whole family and keep emotional stability more intact.
Some other important benefits that solving a divorce "collaboratively" outside the courts can bring include the following:

Spouses determine the time frame of their divorce rather than a judge
No matter where spouses are in the process, their children's needs are considered during every step
Saves money by staying away from the courts, making the collaborative process more affordable over litigation.
Scott N. Dunn helps clients understand and master family law and is fully dedicated to providing the best outcome. For more information, visit http://www.asheborocustodyattorney.com/.
About the Company
Attorney Scott Dunn's office is located in Asheboro, North Carolina. Dunn has been serving Asheboro, Troy, and the surrounding areas for over 23 years. As an experienced attorney, Dunn has fought and won cases for his clients in all areas related to family law, child custody, child support modification, traffic violations, and criminal defense. Mr. Dunn also represents men and women in divorce cases. His practice also serves Spanish-speaking clients. Scott Dunn is Asheboro's chosen child custody attorney. He guides clients easily through the tedious process of child custody, helping clients understand and master family law. Scott Dunn Law Office represents local, regional, and national level clients, fully dedicated to providing the best outcome.