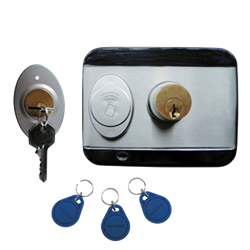 (PRWEB) September 26, 2014
Locks-Magnetic.com, a well-known magnetic door lock manufacturer from Shenzhen China, is proud to announce its new smart locks, which come with the best holding force in the industry. The company aims to provide the best quality products at reasonable prices for its clients around the world.
"We're excited to introduce our new smart locks to the global customers. These new products have a range of activation strength, from 100lbs to 1200lbs.," says, the CEO of the company. "We are offering great discounts on our new products, and we hope to expand our international market through such a promotion."
According to the CEO of Locks-Magnetic.com, a smart lock is a locking device that includes an electromagnet and an armature plate. Each of the magnetic door locks from this company is a well engineered and highly crafted lock. The company checks and re-checks the ready-made door lock products before shipment
The current sale launched to show the company's thanks to worldwide clients. All its current and prospective customers can get a discounted price. This is a great opportunity for those who are thinking of buying inexpensive smart locks online. According to the company's sales manager, the discounted smart locks are of top quality. People do not need to worry about anything when shopping on its website.
About Locks-Magnetic.com
Locks-Magnetic.com is a leading online store of high quality magnetic lock products. With an aim of offering the most affordable and convenient products, the company often announces new innovative products. In addition, it launches big promotions at its one stop website frequently. Customer service is the top priority of this professional supplier.
More details about the company and its high quality products can be found at
http://www.locks-magnetic.com/Spirituality/.