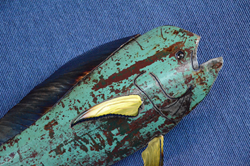 Charleston, SC (PRWEB) September 26, 2014
Marine animals come to life through recycled metal, tools and old engine parts in the South Carolina Aquarium's newest art installation, Salvage for our Seas. The exhibition, on display through January 15, 2015, features sculptures by Charleston artist Daniel Miner representing the Lowcountry's diverse animals and landscapes.
Each piece is an original interpretation by Miner who transforms expired engine parts and shop equipment into detailed sculptures using a hand-held plasma cutter, which delivers 30,000 degrees of precision-cutting heat. Miner individually draws and handcrafts each piece, sealing them with a multi-stage powder coating. Miner's work reflects his passion for preserving and protecting our natural world. His pieces include sea turtles, mahi, sailfish, and tarpon.
Visitors to the Aquarium have the opportunity to reserve and later purchase Miner's artwork displayed in Salvage for our Seas, with a portion of the proceeds directly supporting conservation and education programs at the Aquarium. Salvage for our Seas is included with general admission to the Aquarium. For more information visit scaquarium.org/art or call (843) 577-FISH (3474).
For all media inquiries, please contact Kate Dittloff at (843) 579-8660 or kdittloff(at)scaquarium(dot)org
About the South Carolina Aquarium:
The South Carolina Aquarium, Charleston's most visited attraction, features thousands of amazing aquatic animals from river otters and sharks to loggerhead turtles in more than 60 exhibits representing the rich biodiversity of South Carolina from the mountains to the sea. Dedicated to promoting education and conservation, the Aquarium also presents fabulous views of Charleston harbor and interactive exhibits and programs for visitors of all ages.
The South Carolina Aquarium, a 501(c) (3) not-for-profit organization and is open daily from 9 a.m. to 5 p.m. The Aquarium is closed Thanksgiving Day, half day Dec. 24 (open 9 a.m. to 1 p.m.) and Dec. 25. Admission prices are: Toddlers (2 and under) free; Youth (3-12) $17.95; Adults (13+) $24.95. The Aquarium plus the 4-D Theater experience is free for Toddlers, $22.95 for Children, $29.95 for Adults. The 4-D Theater experience only is $6.95 for Children and Adults, and free for Members. For more information call 843-720-1990 or visit scaquarium.org. Memberships are available by calling 843-577-FISH.
About Daniel Miner:
Charleston native and former automotive technician by trade, Daniel Miner brings his passion for industrial metals into each of his pieces using repurposed steel and engine parts. This transformation from rejected metal into fine and functional art is accomplished with a hand-held plasma cutter, welder, torch and hand tools. Each design is hand-drawn and hand-crafted; therefore, each piece is unique. For durability and weather resistance, Daniel seals his work with a multi-stage powder coating technique. For more information on Daniel Miner visit minermetal.com.