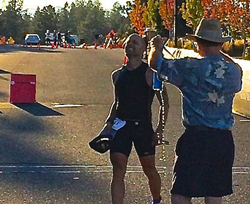 Living Fuel is recovery for me especially on big training days, and racing days.
(PRWEB) September 29, 2014
The Leadman 250 Tri Bend is part of the legendary Leadman competitions outside of Leadville, Colorado. Leadman 250 Tri Bend is located in Bend, Oregon and is known as one of the toughest Triathlon challenges in the country. It is filled with new swimming and cycling lengths and includes a physically challenging ultra-distance for the run.
Christian Isakson, extreme ultra-athlete and Living Fuel Champion, took the challenge last week and won the third place trophy for his efforts.
"All in all, it was a really good day for me," Isakson said after the race. "I knew going in that if I was up front somewhere I'd take a stab at it."
Isakson has had a lot of success in race competitions the past several years, including the completion of the amazing Epic 5 Challenge where he ran five marathon races in five days on five different islands in Hawaii. He also
"Christian is the epitome of a Living Fuel Champion, a remarkable athlete who continues to get better and better," KC Craichy, Founder & CEO of Living Fuel, said. "He is a living example of 'All things are possible.' No telling what he will accomplish!"
Isakson has depended on LivingFuel products for years, including SuperBerry® Ultimate, SuperGreens, LivingProtein®, SuperEssentials® Omega, SuperEssentials® Aminos, and InSportRecovery®.
"Recovery is vital and for training to do events like Leadman improper recovery leads to improper results," Isakson said. "Living Fuel is recovery for me especially on big training days, and racing days."
KC Craichy introduced Isakson to the power of LivingFuel products prior to Isakson's successful training and completion of the Epic 5 Challenge.
"Christian has virtually lived on LivingFuel products during training and competition and as a result has surely added years to his athletic life and life to his years," Craichy said.
Isakson now turns his training toward Ultraman Florida next February. He has also competed successfully in Ultraman Canada and Ultraman World Championships in Hawaii last December where he finished in 4th place in the Men's Division. Isakson said LivingFuel products will be his nutritional choice for training and race day again.
KC Craichy is a health advocate, researcher, and recognized expert on natural health and performance nutrition. His extensive study of leading-edge health research and collaborative work with top medical and nutritional practitioners and researchers to solve his wife Monica's health problems—anxiety, depression, and suicidal thoughts—led him to the answers for Monica's healing and to the founding of Living Fuel, Inc. As a result of overcoming this health crisis, KC and Monica have helped numerous people become overcomers in their own health situations. Together they are now cohosts of the popular Internet TV program LivingFuelTV.
KC is committed to changing lives through multimedia, super health lifestyle education combined with super healthy, high impact superfoods. He is a Performance Nutrition Specialist and serves on the Nutrition Advisory Board for Titleist Performance Institute. KC also served on the Clinical Nutrition Review Board (the certifying body of the International and American Association of Clinical Nutrition) for seven years. A frequent natural health and performance nutrition guest on various TV and radio programs as well as a frequent contributor to national magazines and blogs, KC lives in Orlando, Florida, with his wife, Monica, and their five children.