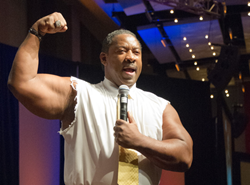 Bradenton, FL (PRWEB) September 26, 2014
On Tuesday, October 14th, RV Brown will speak at Woodland Community Church's Men's Night. Brown is the founder and president of Outreach to America's Youth and is best known for his commanding stature and powerful voice, moving people to action when he speaks.
Brown is the author of the workbook, Breaking The Chain, a book used to teach students in small group settings and "Step Up To The Plate, Dad!" a powerful tool in which he exposes men to the spiritual weapons needed to fight Satan and defend their families. The importance of mothers is strongly emphasized. This Holy Spirit-filled book will encourage, transform, and empower every dedicated reader.
Brown is a celebrated motivational Christian speaker who has shared his guidance with diverse groups from maximum-security correctional institutions to active-duty troops serving overseas to underprivileged school children. RV Brown travels the world to share the Gospel, minister youth and encourage young Christian men. He is excited about Jesus Christ and has dedicated his life to serving Christ and spreading the word.
In over 20 years of ministry Brown has had the opportunity to preach the Good News in 48 states and 43 countries. His robust build and inspirational messages have also given him the platform to minister and encourage several college and NFL players, including former Tampa Bay Buccaneers Derrick Brooks, Michael Pittman, Dexter Jackson, Roman Oben, and Chartric Darby. He has shown these men that they can be physically strong and still be a Christ follower. "Look at me. Do I look like a little softy?" Brown said. "I want them to see its okay to be excited about Jesus." He portrays a mighty man of God with humility and inner strength. To learn more about RV Brown, visit his website.
Tickets are available online for $10 and will be sold until Monday, October 13th. Tickets must be purchased in advance. The event will feature high energy worship, a message from God's word from RV Brown, fellowship, encouragement and BBQ ribs and chicken courtesy of CK Smokehouse.
###
About RV Brown
Brown is a native of Cayce, South Carolina. He is the 16th of 17 brothers and sisters. He attended Airport high School, where he lettered in five sports. Currently, he resides in the Tampa, FL area with his wife, Frances, and their two children, Xavier and Sommer.
Brown earned his degree from South Carolina State University and played football all four years of college. He received certificates of training from Community Intervention, Inc., Minneapolis, Minnesota. He also received a certificate from Morehouse School of Medicine and Drug Abuse in the Community.
About Wildmen Ministry
Wildmen started out in 2002 with 8 men who got together to attend a "40 Days of Purpose" small group. Designed to promote discipleship, fellowship, worship, ministry and outreach, Wildmen provides a safe place where men can come and be men as they grow in their relationship with Jesus Christ. Men who wish to deepen their relationships with God and connect with other men who share these beliefs please visit http://www.godsrealmen.com, a resource for finding local men's groups.
About Woodland Community Church
The Woodland Community Church is a body of believers committed to worshiping and serving Jesus Christ. As a Southern Baptist Church, they join with like minded Christians in spreading the gospel around the world. Woodland's purpose statement is: "To live on the crest as we connect to God through worship, reach the world with good news, equip believers for living, serve those who are hurting, and trust one another in strong relationships."
Whether you are a spiritual seeker who's just starting to ask questions about God, or a committed Christian who wants to sink the roots of your faith even deeper, you can find a home here at Woodland. Visit the website here.