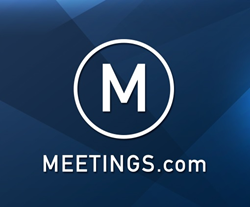 We're investing to develop the best site experience in the industry by learning from our clients, hotel community, and partners
West Palm Beach, FL (PRWEB) October 16, 2014
Meetings.com has recently revamped their site all in a continuation to provide customers the very best in meeting venues and hotel rooms.
On the redesigned site, Meetings.com has a new app through Salesforce in the AppExchange. There is now a link featured on the homepage where Salesforce users will be able to book a hotel and meeting rooms directly into their Salesforce program from Meetings.com. With the new app, customers can get quotes with discounted pricing from hotels, organize attendee information, and track meeting expenses.
With a wider range of meeting space, Meetings.com helps clients select the right property for their meetings and events around the world. Owned and operated by HotelPlanner since 2012, the meeting space portal will enable you to connect with over 60,000 hotels and venues to find the ideal location for your unique event and budget. With a global team of travel specialists and local meeting planners, discounted online hotel and meeting quotations can be obtained from one convenient location.
The company also creates customized hotel and meeting programs for both associations and corporations, and its audience includes catering managers and event venue owners. Processing thousands of meetings per day, Meetings.com prides itself in getting customers the best rates on meeting space for any special event.
"Meetings.com is committed to delivering an exceptional personalized user experience," said Tim Hentschel, CEO of HotelPlanner. "We're investing to develop the best site experience in the industry by learning from our clients, hotel community, and partners," continued Mr. Hentschel.
About Meetings.com
Meetings.com focuses on business travel and helping corporate event planners book space for meetings plus hotel rooms. The mission of Meetings.com is to be the premier site for information on meeting and banquet venues around the world. Through direct, collaborative relationships with the leading meeting and banquet venues around the world, Meetings.com will quickly find clients the perfect space and the best price. Combining technology with an experienced client-focused team, Meetings.com provides exceptional service to help each client select the optimal venue and/or develop an exclusive corporate hotel travel program always delivering the best price for their hotel travel needs.
To find out more information, please contact Bruce Rosenberg at (818) 661-0244 or via email at Bruce.Rosenberg(at)hotelplanner(dot)com.