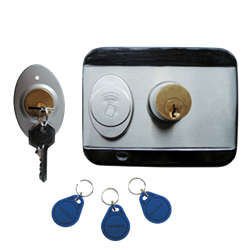 (PRWEB) September 27, 2014
Locks-Magnetic.com is one of the world's leading magnetic lock companies. Recently, it has released its new designs of magnetic locks. The reliable supplier is now doing business with many industry leaders. More importantly, all its great items are available at low rates.
"Our electronic locks come with a range of activation strength, from 100lbs to 1200lbs. All of them are offered at discounted prices, and the current discount is up to 30% off." A sales manager of the company says, "The big discounts are not there every day. Please visit our website now for more new products. In addition, all the products are in stock and ready to ship."
According to a senior engineer of Locks-Magnetic.com, a intelligence electronic lock is a locking device that includes an electromagnet and an armature plate. The electromagnetic Locks from Locks-Magnetic.com are well designed. This company is a good place for anyone looking for high quality door lock products.
Some details of the company's electronic locks are as follows:
Operating voltage: 12VDC
Electronically controlled lock voltage: 9 ~ 18VDC
Quiescent current: ≤ 20mA
Unlock current: 0.3A
Working temperature: (-30 ~ 60) ℃
Operating Humidity: 10% ~ 90% RH
Bolt length: 20mm
Operating Temp: -10~+55℃(14-131F)
Size: 128 * 105 * 59mm
Cover Finish: Anodized aluminum
Lock Finish: Zinc
Armature Plate Finish: Zinc
Weight: 2 KG
About Locks-Magnetic.com
Locks-Magnetic.com is a leading online store of high quality magnetic lock products. With an aim of offering the most affordable and convenient products, the company often announces new innovative products. In addition, it launches big promotions at its one stop website frequently. Customer service is the top priority of this professional supplier.
More details about the company and its high quality products can be found at http://www.locks-magnetic.com/.