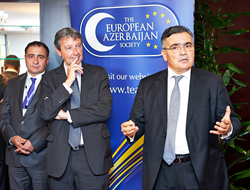 Your generation will return to Azerbaijan as the managers of tomorrow.
Brussels, Belgium (PRWEB UK) 27 September 2014
More than 30 new Azerbaijani students and interns living in Brussels attended the third annual informal networking cocktail at the Belgian office of The European Azerbaijan Society (TEAS) on 25 September. The event was organised by TEAS and the Association of Young Azerbaijani Professionals in Europe (AYAPE).
Lionel Zetter, Director, TEAS, opened the event, saying: "Azerbaijan is great country with a wonderful future, and this will be shaped by the students and interns of today. TEAS is sponsoring the Prince of Wales' Mosaic charity in the UK, which is seeking to support the next generation of leaders from the Islamic world, and you are all welcome to apply for these grants."
H.E. Fuad Isgandarov, Ambassador of the Republic of Azerbaijan to the Kingdom of Belgium and the Grand Duchy of Luxembourg and Head of the Azerbaijani Mission to the EU, acknowledged: "Your generation will return to Azerbaijan as the managers of tomorrow. I am very proud that Azerbaijani students are studying in Belgium. It is very important that you remain in touch with our Embassy and supportive organisations, such as TEAS. You will return with a global perspective. Azerbaijan currently plays on a regional level, but will soon be more active globally."
H.E. Arif Mammadov, Ambassador and Head of the Mission of the Organisation of Islamic Co-operation (OIC) to the EU commented: "It is a real pleasure to see such intelligent young Azerbaijanis here today. Some of you have been interns in our Mission, and I hope more will spend time with us. I am delighted with this co-operation, as it helps Azerbaijanis understand the work of European institutions. I am proud to be Azerbaijani and to represent the Islamic world here in the EU. There is huge potential for my country and this will come from the young people here today."
H.E. Khazar Ibrahim, Ambassador and Head of the Mission of the Republic of Azerbaijan to NATO, stated: "Each year 30–35 students come to NATO from our Azerbaijan Diplomatic Academy (ADA). When they arrive from Azerbaijan, I discover they are open-minded. You will all have the chance to become Ambassadors one day. You have many more opportunities than my generation, thanks to such organisations as AYAPE and TEAS."
Franziska Schwelm, Policy Officer for Youth Participation, European Youth Forum, said: "The Azerbaijan Youth Council is part of the European Youth Forum, a Brussels-based NGO. We operate an initiative called the European Youth Capital, where we select a city that actively involves young people in societal and political life. In 2016 this will be Ganja – the first time a city in Azerbaijan, or outside the EU, has been selected. During my visit to Ganja, I was amazed by the enthusiasm amongst youth to come closer to the West."
Murad Mammadov, Intern to MEP Anna Zaborska and AYAPE representative concluded: "AYAPE organises internships in various EU institutions, the US Congress and UK House of Lords, in addition to BP and other companies. We believe that Azerbaijan has many potential leaders who should be given a chance to work abroad. There are more than 70 Azerbaijani missions abroad, and there are many chances to gain invaluable experience in these. Azerbaijan needs Europe, just as Europe needs Azerbaijan."