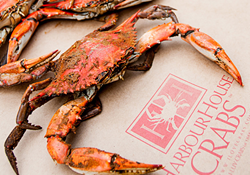 Significantly reduced shipping rates and as always back it with our total satisfaction quality guarantee.
Harrisburg,PA (PRWEB) October 01, 2014
Harbour House Crabs, a leader in the mail order crab and seafood business that has been shipping fresh from the Eastern Shore since 2002, announced today that it has launched a new website to provide customers a better online shopping experience while at the same time giving them an opportunity to save some money.
"It has truly been a collaborative effort between our in house team, web developers and shipping partners to make this dynamic site and all of its benefits a reality," states Curt Engle, president and owner of Harbour House Crabs. "We are very excited and proud to offer these additional features and services while continuing to provide the high-quality products and customer service our loyal customers all around the country have come to expect."
The updated state of the art design makes it extremely simple to browse the wide selection of hard shell blue crabs and premium seafood available. It is filled with vibrant mouth-watering photos of heavy and sweet Maryland Blue Crabs, their famous Jumbo Lump Crab Cakes, Soft Shell Crabs, Alaskan King Crab Legs, Jumbo Gulf Shrimp, Lobster Tails and more. Users will never be more than a click away from finding their favorite seafood and checking out is also a breeze.
As one can imagine, shipping perishable blue crabs and other seafood coast to coast that are fresh from the waters, and sometimes even still alive, can be a concern when it comes to overnight shipping costs. Knowing there had to be a better way Harbour House went to work and once again revolutionized the industry by not only improving their already innovative packaging but also worked to provide alternative and less expensive methods of delivering products to their customers.
"By introducing 1 and 2 day ground shipping to almost half the U.S. we have been able to offer significantly reduced shipping rates and as always back it with our total satisfaction quality guarantee," states Engle.
For over a decade, Harbour House Crabs has been catering to distant blue crab "lovers" and those that once called Maryland home so they can continue to share traditions with their family and friends, relive precious memories and create new ones to last a lifetime.
For more information about the announcement, as well as saving $10 off a first order when joining their free CrabSavers club, visit http://ilovecrabs.com.