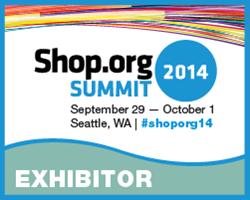 Shop.org is a great opportunity for us to connect with clients, take stock of the state of the industry, and identify the trends that impact the word of eCommerce
Chicago, IL (PRWEB) September 29, 2014
Lyons Consulting Group (LYONSCG), the premier digital agency helping retailers, branded manufacturers and B2B merchants realize their eCommerce potential, announced today that they are participating at the Shop.Org Summit 2014 from September 29 through October 1 in Seattle, WA. In addition to exhibiting in the show expo (booth 622), firm Director of Digital Consulting Services, Danielle Savin, will moderate a Roundtable entitled, "Balancing Brand and Conversion Through Merchandising and Messaging."
"The Shop.org Summit enables LYONSCG to gain exposure to the best minds in digital and multi-channel retail," says LYONSCG President and CEO, Rich Lyons. "Not only can visitors to the show learn about how our holistic range of eCommerce services can maximize their potential, but we at LYONSCG can also gain a better understanding of the concerns and thoughts of retail decision-makers."
The firm will be well represented during the 3-day event:

LYONSCG Director of Digital Consulting Services, Danielle Savin and Andy Wang, Digital Marketing Brand Manager at World Kitchen will co-moderate the roundtable "Balancing Brand and Conversion Through Merchandising and Messaging." The session will take place on Wednesday, October 1 from 12:15-1:15 PM.
The discussion will outline how to balance the need for consistency in messaging while testing and optimizing conversion rate, examine how online merchants can maintain a positive experience and test alternative messaging, without compromising branding, and describe what tools are available to online merchandisers to help them maintain brand consistency in a dynamic e-commerce environment.
LYONSCG is an exhibitor in the expo, and show attendees will be available to meet with LYONSCG representatives in booth 622 to discuss ways to help realize their eCommerce potential, from design and marketing to implementation and support.
"Shop.org is a great opportunity for us to connect with clients, take stock of the state of the industry, and identify the trends that impact the word of eCommerce," says David Barr, LYONSCG Executive Vice President. "Our attendance at Shop.org pays off throughout the year as we're able to use our learnings to bring new ideas that help our customers sell more online."
The Shop.org Summit 2014 conference will take place from September 29 through October 1 at the Washington State Convention Center in Seattle.
About Lyons Consulting Group
Lyons Consulting Group is the industry's premier eCommerce Digital Agency, serving brand, retail, and B2B organizations with tailored eCommerce solutions that maximize online potential. Headquartered in Chicago, the firm offers a full range of services beginning with Digital Strategy and Digital Marketing and extending through Experience Design, Platform Implementation, Application Development, Hosting and Support. The approach is holistic—to provide every client with a creative, robust and increasingly profitable eCommerce website. LYONSCG is eCommerce Realized!